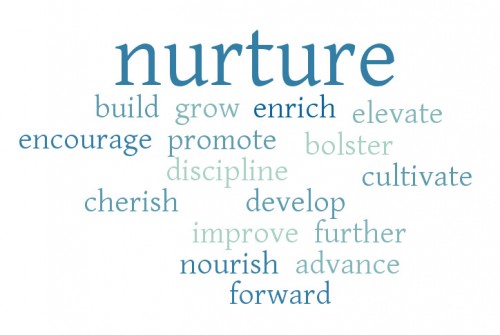 One year later, and I think what I said about the idea of One Little Word still rings true: Anyone who is a bookworm knows that words have power. Words matter and the words we choose in our lives can make such a difference in how we see the world.
This is my second year participating in One Little Word, a year-long workshop hosted by designer/blogger/memory keeper Ali Edwards. In One Little Word, participants choose, well, one little word to focus on for the upcoming year. As Ali explains, "You live with it. You invite it into your life. You let it speak to you. You might even follow where it leads. There are so many possibilities."
My word for 2014 was curate, and my vision for the year was to cull back the unnecessary things in my life to make space for the things that mattered and, in the future, give myself the mental and physical space to grow.
This idea, picking a word and focusing your energy into what that word means, worked for me. I didn't do everything I hoped to do, but I felt like my year had a sense of direction I've been missing. We moved and I got rid of a lot of stuff. I focused, for a few months, on not buying new things. I read a lot of my own books. I did a Whole30. I committed to a task management system (Todoist) and worked on systems for keeping organized. I feel mentally lighter now than I did last January.
I'm a little surprised that after a year of curating, I don't feel compelled to start adding things back to my life. I thought I'd be ready to reverse course, but I think the idea of being deliberate and thoughtful about myself and my space and the people around me is sticking.
That revelation led me to my One Little Word for 2015: nurture.
I resisted nurture for a long time – it was one of the first words I thought of, but a word I initially couldn't accept. The idea of being nurturing is challenging for me. I don't feel like the kind of soft, warm person who is in a position to nurture others… and I'm not always great at nurturing myself. It reminded me of caring for children, which I don't have and don't know how I feel about. It felt like a word for a better, more generous version of myself that I'm not sure I can ever achieve.
One of the things that Ali has talked about when it comes to finding your word is just listening, seeing what words come up and repeat and seem to settle in. Nurture spoke to me, as you might expect, through a book — Laura Vanderkam's book What the Most Successful People Do Before Breakfast. In the book, Vanderkam argues that the most successful people spend time before breakfast doing important, but not urgent, things – nurturing their careers, nurturing their relationships or nurturing themselves. Those are all things that I want to do too.
I think that was my word speaking to me, of showing me that my preconceived ideas about this word weren't fair. While one definition of nurture is to take care, nurture can also be about encouraging growth and development, or helping to grow and expand and succeed. I think those are ideas that can guide me to what I want to accomplish in 2015.
In 2014, curate provided me with a sign post, an idea that I could look to when I felt uncertain or needed a reminder to get back on track.
In 2015, nurture is going to provide me with a challenge, a push out of my comfort zone to grow and expand and develop the things in my life that matter most. Bring it on.
"Be one who nurtures and who builds. Be one who has an understanding and a forgiving heart, who looks for the best in people. Leave people better than you found them." – Marvin J. Ashton