Happy first day of 2015, friends and fellow readers! Over the last few years as a book blogger, I've realized that I am not very good at keeping book-related goals. I start the year with great intentions, but inevitably fall to the siren song of reading whatever the heck I want. I'm sure you've all been there, right?
But isn't going to stop me from setting a few goals for 2015 and trying my hand at a challenge I've failed miserably at in the past.
The 2015 TBR Challenge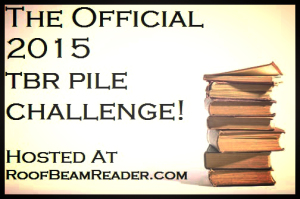 Although I am not big on reading challenges, I think I have a decent shot at completing the 2015 TBR Pile Challenge, organized by Adam at Roof Beam Reader. I tried this challenge in 2012 and 2013 and failed both times — it seemed like as soon as I put a book on a challenge list, I became entirely uninterested in reading it.
While it's entirely possible that will happen again in 2015, I'm a little more optimistic because my reading stats from 2014 show that I'm doing better at reading books from my own shelves. This is a trend I'm hoping will continue, especially with a reading challenge like this one.
The TBR Challenge asks you to focus on books that have been on your shelves for a least a year (published in 2013 or before). You pick a list of 12, plus two alternates, and commit to reading and reviewing them in 2015. Here's my list:
The Legend of Pradeep Mathew by Shehan Karunatilaka (2012) (fiction)
Out by Natsuo Kirino (2003) (fiction)
America's Game by Michael MacCambridge (2005) (nonfiction)
Don't Let's Go to the Dogs Tonight by Alexandra Fuller (2001) (memoir)
The People in the Trees by Hanya Yanagihara (2013) (fiction)
Duplex by Kathryn Davis (2013) (fiction)
The Rook by Daniel O'Malley (2012) (fiction)
This is the Story of a Happy Marriage by Ann Patchett (2013) (essays)
An Astronaut's Guide to Love on Earth by Col. Chris Hadfield (2013) (memoir)
Embassytown by China Miéville (2011) (fiction)
Americanah by Chimamanda Ngozi Adichie (2013) (fiction)
The Translator by Daoud Hari (2008) (memoir)
Alternates:
Never the Hope Itself by Gerry Hadden (2011) (nonfiction)
Safe from the Sea by Peter Geye (2010) (fiction)
I'm excited about this list for a lot of reasons. It has a nice balance of male and female authors, a mix of fiction and nonfiction, and includes several authors of color. I'm hoping that a diverse list, in many different respects, will mean that I have a book for every type of mood.
Other Bookish and Blogging Goals
I've mentioned a couple of times that one of my goals for 2015 is to read more diversely. I decided to put that in writing: I want 25 percent of the books I read this year to be written by authors of color. That's not a ton, but it will be a jump for me.
I also would like to get my entire library cataloged in LibraryThing. I got this partially done in 2014, but I want to make it a priority in 2015.
Other than that, I hope 2015 is a year of free and fun reading, filled with great books and even better bookish conversations.
What books are you hoping to read in 2015?