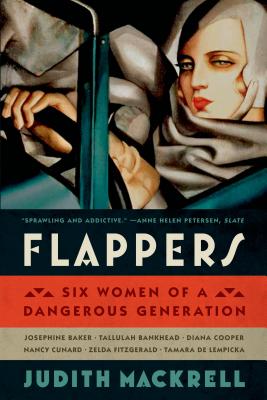 The six women featured in Judith Mackrell's Flappers: Six Women of a Dangerous Generation  are not the most famous women of the Jazz Age. But the stories of Josephine Baker, Tallulah Bankhead, Diana Cooper, Nancy Cunard, Zelda Fitzgerald, and Tamara de Lempicka are wonderful illustrations of the challenge in forming identity and a life with guts and swagger (as one blurb enthuses) during the 1920s.
Before I picked up the book, Zelda Fitzgerald was the only name I knew immediately, although I recognized both Josephine Baker and Diana Cooper soon after I started reading their stories (some of Cooper's family secrets are chronicled in The Secret Rooms by Catherine Bailey). But they are women across a range of economic and social classes who found themselves inspiring and inspired by the wild ethos of the flapper during the 1920s.
In some ways, each of these women embodied the 1920s version of the Cool Girl that Gillian Flynn wrote about so craftily in Gone Girl. They battled hard to both create the image of the flapper, as well as live in the reality of being a woman in the 1920s and the consequences of being considered a flapper. The theme of image versus reality was so cool to follow through their different stories.
Mackrell made an interesting choice in the way she decided to arrange this book. Each woman is covered in two chapters. Each first chapter covers their childhoods, up until a pivotal moment in the 1920s when each of these women had to make a choice about the life they wanted to live. After introducing all six of these women, Mackrell moves into a second chapter on each that shows the outcome of those choices, and how those choices affected what they decided to do after the age of the flapper was truly over.
At first I struggled a little bit with this structure – it felt like I would just settle into a great biography, only to be shuttled out of it into another woman's story. But it started to make more sense in the second half as Mackrell made intriguing connections between each woman and how their lives after the Jazz Age veered off in different directions. Some, like Diana Cooper, settled into a contented middle age, while others, like Nancy Cunard, spent the rest of their lives butting up against the expectations the world set up for them.
I read this book alongside Megan Mayhew Bergman's recent short story collection, Almost Famous Women, which was so interesting. I have a post on that experience going up at Book Riot soon, that I'll be sure to cross post here. But basically, there are so many connections, literal and symbolic, between the women Bergman fictionalizes and the women featured in this book. All of them pushed against conventions, and all of them had to face the consequences of those choices. But neither author makes the women they wrote about into cautionary tales – they're truly stories that celebrate women who go against the grain.
The other part of this book that really struck me is how much the underlying pressure and expectations for women have not changed all that much – widespread panic about the morality of young women, for example, is still alive and well. An argument that Mackrell makes near the end of the book resonated with some of the issues I think are still common today:
In this decade of rapid social change, the borderline between freedom and selfishness, ego and egoism, was hotly contended ethical ground. … For male artists and writers, the supremacy of the individual over society was one of the clarion themes of the Twenties. … Most women, however, were experiencing the dichotomy between individual liberty and society in far more practical, problematic and domestic ways. In theory they were living in an era of emancipation … yet women were presented with few narratives of what to do with those choices.
As I think this rambling review suggests, Flappers was a wonderful read, full of engaging stories that also have surprising relevance to the world we live in today.
I was inspired to pick up Flappers this month because of Jazz Age January, a month-long event celebrating books related to the 1920s (novels by Jazz Age authors, nonfiction, or even contemporary fiction set in that era). Thanks to Leah at Books Speak Volumes for hosting this fun event!