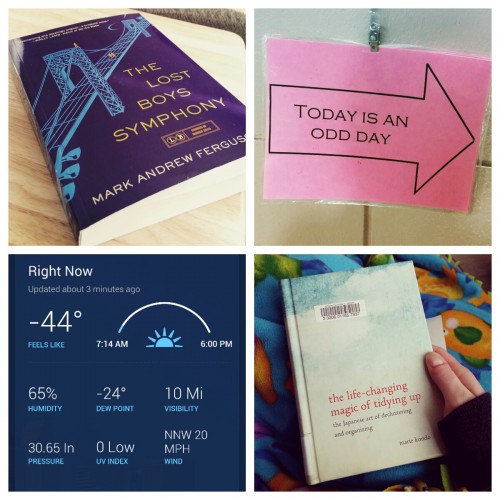 Time and Place | 8:00 a.m. on my couch, with my warmest fleece blanket on my lap.
Reading | It's been a really fantastic week of reading. I finished three books: The Life-Changing Magic of Tidying Up by Marie Kondo, Being Mortal by Atul Gawande, and Americanah by Chimamande Ngozi Adichie. They were all great, in their own ways — I'm hoping to have reviews up within a few weeks. I just started The Lost Boys Symphony by Mark Andrew Ferguson (out in March from Little, Brown). It's delightfully weird so far.
Watching | The boyfriend and I went to see The Imitation Game last night. It was pretty good — excellent acting, but the script felt a little lacking.
Cooking | My favorite new Whole30-approved meal is a homemade marinara sauce with ground beef, served over spaghetti squash. I've eaten this almost every day for the last two weeks and have no intention of stopping. My plan today is to do another whole chicken in my crock pot and make more marinara sauce.
Blogging | This week I reviewed Eye on the Struggle by James McGrath Morris (a biography of journalist Ethel Payne) and shared three podcasts I'm into right now.
Promoting | I'm starting a new feature over at Book Riot — IRL: Nonfiction to Read if You Love XXX. This week, I shared some nonfiction recommendations for Emily St. John Mandel's Station Eleven, one of my favorite books in 2014.
Sharing | On the same day I posted about podcasts, both Shannon (River City Reading) and Heather (Capricious Reader) also posted about podcasts. Great minds think alike!
Hating | Right now, the actual temperature in my town is -17 degrees. With the wind chill, it feels like -44 degrees. That is just the worst.
Loving | This year I decided I was going to deliberately slow down my blogging, posting just three times per week ("Currently" on Sundays, with other content on Tuesdays and Thursdays). That more relaxed schedule has been great for me.
Contemplating | Earlier this week, a prominent book blogger who took her blog offline at the beginning of the year because she had plagiarized many blog posts (and guest posts for other bloggers), finally offered a public apology for her actions. I want to be really clear: I'm not sharing this because I want to contribute to a public pile on, for the plagiarist or the bloggers who were most public in bringing her plagiarism to light. I want to share it because the situation has brought up a lot of issues I think are worth talking about. How should we as a blogging community respond to someone who violates one of our core values? How do we "out" someone for behaving badly without it turning ugly? (A lot of what it seems went on behind the scenes — I certainly don't know all or even most of it — was a result of individuals trying to avoid a public pile on, but maybe that's what needs to happen…) And what is a correct response from someone who has stolen words from many other people? I'm still forming my own thoughts on these questions, and I hope our community can have some civil, generous, honest conversations about this in the coming weeks.
Anticipating | Despite the Hoth-like temperatures, I am still going to try to get to the gym today. My favorite sign there is the one used to show the direction for the walking track. It often feels like an odd day.
Happy Sunday, everyone! What are you reading today?