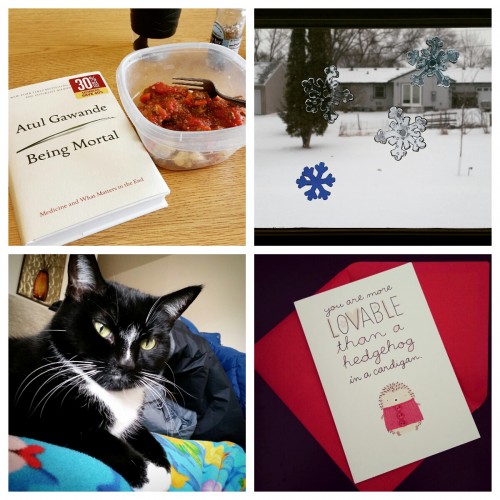 Time and Place | About 7:50 a.m. on Sunday morning, sitting at my desk.
Reading | This week was very busy, so I didn't get much reading done — I finished up Eye on the Struggle by James McGrath Morris (a biography of African American journalist Ethel Payne) and Hammer Head by Nina MacLaughlin (March 16 from W.W. Norton), a memoir about becoming a carpenter. I'm also in the middle of Being Mortal by Atul Gawande (a look at how to improve the process of aging) and Americanah by Chimamande Ngozi Adichie.
Watching | For Valentines Day, the boyfriend and I rented The Book of Life and re-watched Nightcrawler (one of those was my pick, the other was his). The soundtrack to The Book of Life was delightful — I expect to be listening to that today.
Listening | Lately I don't seem to have the attention span to get into any audio books. But I have been listening to podcasts, which made me think a book of short stories might be good on audio — any suggestions for a great collection to start with?
Cooking | I've got this recipe (pork shoulder with beets and artichoke hearts) going in my slow cooker today. Last week's slow cooker meat sauce turned out great — I've been eating it all week poured over spaghetti squash.
Blogging | This week I reviewed The Lonely War by Nazila Fathi (awesome memoir about contemporary Iran) and shared four comic books I'm into right now (Alex + Ada, Rat Queens, Ms. Marvel and The Unwritten).
Linking | There's a lot of to ponder in this New York Times piece about the culture of Internet shaming. I've seen a lot of these events go down on Twitter and they make me really uncomfortable.
Linking II | The Black Lives Matter reading list mentioned in this NPR story looks amazing. I've got a bunch of those books on my reading list already.
Hating | While Minnesota hasn't had much snow this winter, last week we had a storm that was a mix of freezing rain and snow. It's been frigid since, so basically all roads and parking lots are covered with a sheet of ice. It's lovely.
Loving | Jeff Shotts, executive editor at Graywolf Press (publisher of The Empathy Exams, On Immunity, and Citizen, to name a few), gave a great talk at my local college campus this week. But even better, I got invited to have breakfast with him and a few other campus friends Friday morning. It was the best, most interesting book nerd talk I've gotten to have in awhile. I loved it.
Avoiding | Our bathtub needs to be cleaned but ugh, I hate that chore.
Anticipating | Since it's snowing and cold today, I'm excited to spend the day cuddled up at home with a cup of tea and a book. I might have to venture outside to get the gym, but otherwise my day is going to be full of reading and writing.
Happy Sunday, everyone! What are you reading today?