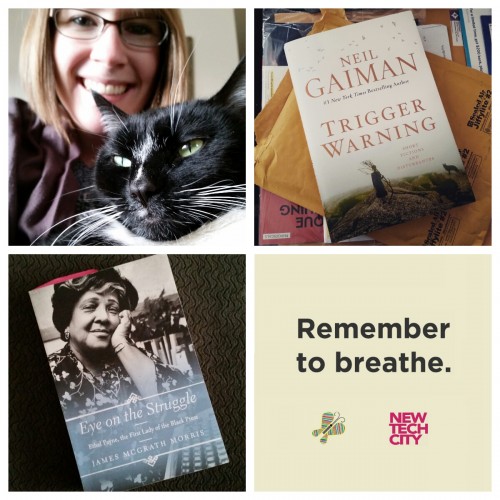 Time and Place | 8:50 a.m on my couch with my Chromebook. Yay for weekends at home.
Eating and Drinking | I'm on day seven of my Whole 30 (second time giving this a try), so lots of protein, fruits, vegetables and healthy fats. I haven't made the kale and apple soup I mentioned last week, hopefully today, along with some crock pot beef and tomato sauce.
Reading | I had a great reading week. I finished up The Lonely War by Nazila Fathi (review hopefully this week), and started in on Eye on the Struggle by James McGrath Morris, a biography of Ethel Payne, a pioneering African American journalist. Morris wrote another one of my favorite journalism biographies, Pulitzer, and so far this one is wonderful too. I also impulsively ordered a bunch of trade editions of comics and finished up Alex + Ada, Volume 1 last night.
Watching | I finally finished The Tudors on Netflix. The last episode was pretty bonkers, but I'm not sure what I should have expected. I want to get back into The Americans with the boyfriend next.
Listening | I just started listening to Death by Black Hole: And Other Cosmic Quandaries, a collection of Neil deGrasse Tyson's popular essays and articles. I'm not far enough along to have a strong opinion on it yet.
Blogging | This week I shared my January wrap-up and looked ahead at my reading plans for February. I also reviewed Almost Famous Women by Megan Mayhew Bergman and shared some nonfiction readlikes.
Promoting | I read a few great articles online this week: Rebecca Traister on the challenges current labor policies put on new moms, Jeff O'Neal with some uncollected thoughts on the new Harper Lee novel, and Sheryl Sandberg and Adam Grant on how women are often responsible for "office housework." Great reads, all of them.
Loving | I finally broke down and bought myself a Nook GlowLight. It's pretty awesome — small, light, and easy to read in bed at night because of the lighted screen. I'm still working on getting egalleys on it, so for now I'm digging into the extensive ebook backlist I've accumulated.
Contemplating | One of my favorite blogs is Contemplating Computing by Alex Soojung-Kim Pang (author of The Distraction Addiction). It's full of interesting ideas and links around the idea of using technology deliberately rather than letting technology dictate your actions. This week he linked to a group making "home screen nudges" to remind your to use your phone more mindfully. I added the "Remember to Breathe" screen this week, which makes me smile every time I unlock my phone.
Anticipating | This week I have an event, work or personal, scheduled for every evening. I tend to hate weeks like that, so I'm going to spend a lot of today prepping — getting blog posts done, clearing out my email, and cooking some fast and easy dinners.
Anticipating II | I got a lot of exciting book mail this week, including Neil Gaiman's newest short story collection, Trigger Warning. I hope I can start in on that one this afternoon too.