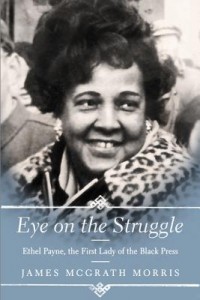 My reading binge of biographies about famous, awesome ladies is still going strong. Today, I want to write about a wonderful biography of Ethel Payne, a pioneering black journalist who is known by many today as the "First Lady of the Black Press," Eye on the Struggle by James McGrath Morris.
Payne got her start in journalism when she was nearly forty, taking a job at the Chicago Defender, a preeminent newspaper for African Americans founded in 1905. In her long career, Payne became only the third black reporter to receive White House press credentials, the first black reporter to cover Vietnam and one of the first black, female television commentators.
She had a front row seat to history, covering events like the Montgomery Bus Boycott and desegregation efforts in Little Rock. And in 1964, she was recognized for her work on civil rights by President Lyndon B. Johnson, who gave her one of the pens used to sign the Civil Rights Act. Even into her 70s, Payne was traveling the world, filing dispatches and essays from Africa and Asia. She led an incredible life that Morris expertly shares in this book.
One of the things that was fascinating, to me, was reading about how Payne saw her role as a black journalist. While she was there to report the facts and gather information, she also saw her role in the press as being an activist and was reluctant to criticize many black leaders for fear of hurting the broader civil rights movement. Her loyalty to her race was more important than following the rules of journalism exactly. As she herself explained,
"For black journalists, particularly me, I think it made us know that we could not stand aside and be so-called objective witnesses. We were absolutely unable to make the distinction between what is 'objective journalism.' So I adopted a code of trying to be fair, but I could not divorce myself from the heart of the problem, because I was part of the problem."
Another of the interesting journalistic threads of this book, of which there were many, is the difference between how the white press and the black press covered many of the same issues. Morris doesn't go into this in depth, but does use some specific differences to show the importance of journalists like Payne – by just being there and asking tough questions, Payne and other black journalists helped to elevate and push the conversation about civil rights.
Eye on the Struggle is a big biography, but it moves along a good pace and never seems to get too far away from Payne's story. There were times when I wanted a little more context on what was happening in the broader civil rights movement – some parts where very clear, while others felt rushed – but I think had the book gone into too much more detail it could have gotten unwieldy. As it is, Morris writes wonderfully about an important but lesser-known figure of this movement in a way that made me hungry to learn more.
Disclosure: I received a copy of this book from the publisher for review consideration.