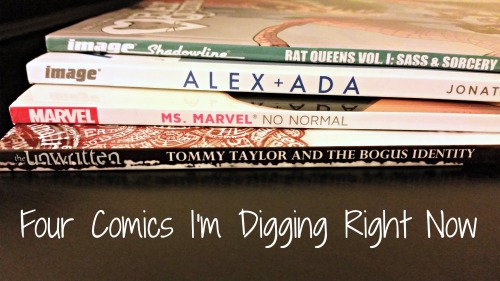 One of the secret benefits of being a contributor to a site like Book Riot is that I benefit from the vast reading lives of the other contributors. As a result of their enthusiasm, I've been much more open into exploring the world of comics over the last several months.
I like to try out single issues of new series on Comixology, a cloud-based digital comics platform that I wrote about more extensively last August. Once I've read a couple of issues and think that this is a series I'd like to continue, I almost always wait for the series to come out in trade paperbacks before I read any more.
Trades usually combine five or six single issues into a book of around 120 pages and are a much more satisfying reading experience for me. Single issues feel like watching a single episode of a television show, then having to wait an entire month for the next installment. It's hard for me to follow plot threads or spend enough time with the characters to fall into the story when they're so short. So, I'm a big fan of trade editions of comics.
Today I want to share some thoughts on a few series I've recently started as trades that, after the first volume, I strongly recommend.
Rat Queens, Vol. 1: Sass and Sorcery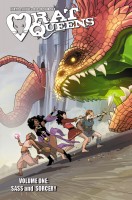 The Rat Queens are "a pack of booze-guzzling, death-dealing battle maidens-for-hire, and they're in the business of killing all god's creatures for profit." The four women in this group – Hannah, Violet, Dee and Betty – live hard and don't take crap from anybody. But they also do really care for each other and, when they're not partying or getting in brawls, take on challenges to save their town from various evil monsters and conspiracy theories. This series is totally goofy, but also totally badass. I love it and I'm so excited that the second volume of this series will be out at the end of this month! (UPDATE: Jeff noted in the comments that volume two got bumped to May… sad!)
Alex + Ada, Vol. 1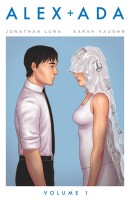 Alex + Ada is a science fictional story about a man and his android. In the first issue, Alex, a bit of a sad sack dude, is given an X5, a new class of realistic android as a birthday present. The company behind the androids is careful to make sure they're not sentient – after all, sentient androids were responsible for a terrible massacre not long before the series begins. But Alex isn't happy with Ada as she is and starts to explore whether he can unlock help unlock Ada and give her a mind of her own. There isn't much for plot in the first volume of this series, but the ending has me so curious for where it's going next.
Ms. Marvel, Vol. 1: No Normal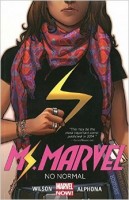 Kamala Khan is a normal, Muslim American teenager from Jersey City until a mysterious fog turns her into a superhero, Ms. Marvel. Kamala needs to learn to deal with her new powers, while also struggling with the same things other teenagers deal with. I love this one, at least in part, because it's amazing to see a young, diverse, woman at the center of a superhero story. Kamala is just wonderful, and I love the way the comic addresses her challenges in all areas of life. I'm a little iffy on superhero stories, but this is one I'm eager to continue.
The Unwritten Vol. 1: Tommy Taylor and the Bogus Identity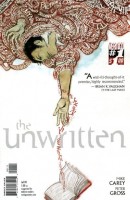 It's possible that The Unwritten series was written exactly for me. Tom Taylor's life has been kind of a mess ever since he was a kid when his dad made him the star of a Harry Potter-esque series of novels. The Tommy Taylor series ended abruptly when his father mysteriously disappeared, messing up Tom even further. Years later, Tom is making ends meet by cashing in on his famous alter-ego… until things go awry again as the books start to become real life! The first volume of this series, which is already at 10 or 11 trades, introduces a mysterious group out to protect Tom as well as a group trying to kill him off. And it has my favorite thing in books, documents that help add to the story! I finished the first volume Sunday night and immediately ordered the second, third and fourth trades. #sorrynotsorry #mycredtcardissorry