After being (relatively) responsible with my book purchases in January, I went pretty bonkers with new books this month. I don't feel guilty about it, exactly, but I do have some concerns about shelf space.
I do, however, have an embarrassing excuse for some of this. My sister and I recently got new credit cards with some airline mile perks to help offset a trip we're planning this fall. We have to put a certain amount on each card in two months to get our bonus. I thought this would be easy… then discovered my grocery store and pharmacy don't take American Express! I used this little setback as an excuse to buy a bunch of books — I need them for my miles, right? Yes, I know this is a terrible excuse.
Anyway, on to the books!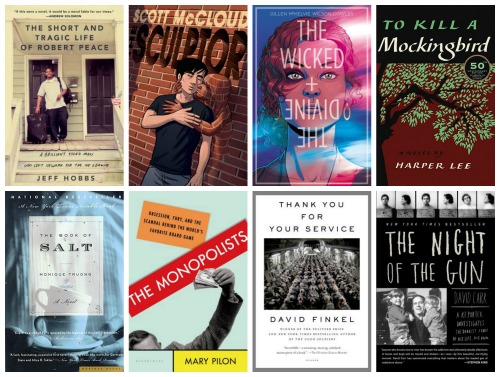 Books I Bought
The Short and Tragic Life of Robert Peace by Jeff Hobbs — I made a trip to Barnes and Noble at the beginning of the month and this is all I bought. That is crazy! The book was on several bloggers best of 2014 lists, and is the story of a journalist reporting on the life of his college roommate who was killed.
The Sculptor by Scott McCloud — I adore Scott McCloud's nonfiction about comics, so it was pretty much a no brainer to buy this book, a fictional story about an artist who makes a pact with Death.
Alex + Ada, Pretty Deadly, The Wicked + The Divine, The Unwritten — I wrote about a couple of these in my post on first volumes of comics. I still haven't read the others, but I plan to soon.
To Kill a Mockingbird by Harper Lee — After the news came out that there will be a second Harper Lee novel, I decided that I need to reread To Kill a Mockingbird. I didn't like this book in high school, but I think that was the fault of the class and not the book.
The Book of Salt by Monique Truong — Someone mentioned this book and the description — a story about Paris in the 1930s told through the eyes of the Vietnamese cook of Gertrude Stein and Alice B. Toklas — caught my attention.
The Monopolists by Mary Pilon — How could I not buy a book about the secret history behind the board game Monopoly? Especially when it includes the story of the lost female originator of the game.
Thank You for Your Service by David Finkel — Some work at my day job has me thinking a lot about soldiers and the sacrifices they make. I've heard many good things about this book, so I added a copy to one of my recent online orders.
The Night of the Gun by David Carr — I was really sorry to hear about journalist David Carr's death last week. He was a fierce reporter who really showed what being a journalist is when he was included in the documentary Page One. The subtitle of his memoir, "a reporter investigates the darkest story of his life, his own," sounds so sad and wonderful.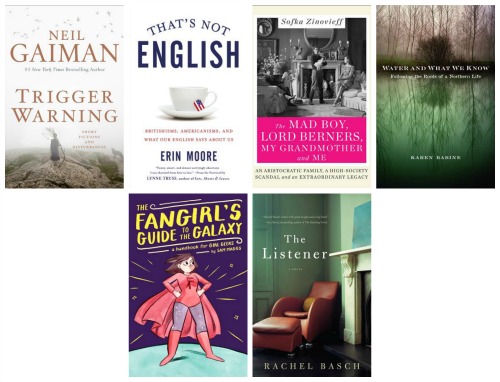 Books I Received for Review Consideration
Trigger Warning by Neil Gaiman (Feb. 3 from William Morrow) — Neil Gaiman short stories! Yay!
The Fangirl's Guide to the Galaxy by Sam Maggs (May 12 from Quirk Books) — This book from Quirk Books, all about how young girls can become fangirls and celebrate geeky things, looks totally delightful.
The Mad Boy, Lord Berners, My Grandmother and Me by Sofia Zinovieff (March 31 from Harper) — I got curious about this one because of the title. The fact that it's about some strange and scandalous aristocratic love triangle sold me on it.
Water and What We Know by Karen Babine (Feb. 15 from the University of Minnesota Press) — I'm trying to read more books by Minnesota presses and with Minnesota settings, so this essay collection about the complexities of water seemed right up my alley.
That's Not English by Erin Moore (March 24 from Gotham) — "The seemingly superficial differences between British and American English open the door to a deeper exploration of a historic and fascinating cultural divide." Sounds so good!
The Listener by Rachel Basch (March 15 from Pegasus Books) — This book arrived unsolicited, but I'm very curious about it.