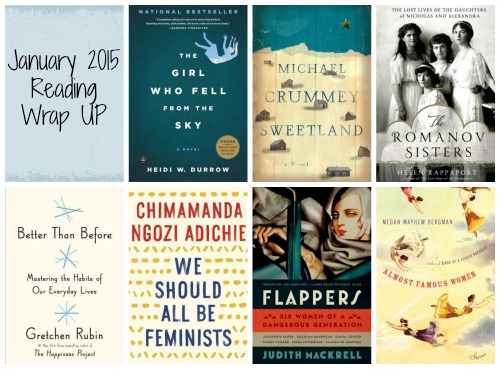 Unintentionally, I spent most of January focusing on books by and about strong women. Other than my first book of the year, all of the authors I read this month were female — an unusual occurrence! Here's what I read in January:
Crummey, Michael: Sweetland (fiction)
Rappaport, Helen: The Romanov Sisters (nonfiction)
Adichie, Chimamanda Ngozi: We Should All Be Feminists (essay)
Bergman, Megan Mayhew: Almost Famous Women (short stories)
Mackrell, Judith: Flappers (nonfiction)
Durrow, Heidi: The Girl Who Fell From the Sky (fiction)
Rubin, Gretchen: Better Than Before (nonfiction)
My favorite fiction read of the month was, hands down, Sweetland by Michael Crummey. It was nostalgic and hopeful and sad and funny and just honestly wonderful. It was my first book of the year and was such a good start. I'm more split on nonfiction — I loved both Flappers and The Romanov Sisters pretty equally.
A Look to February
I've got three review copies that are calling for my attention this month:
I Am Not a Slut by Lenora Tanenbaum (Feb. 3 from Harper Perennial) — A look at "slut shaming" and the harmful effects the word "slut" has on all women.
Single, Carefree, Mellow by Katherine Heiny (Feb. 3 from Knopf) — A debut short story collection that "chronicles the ways in which we are unfaithful to each other, both willfully and unwittingly."
Eye on the Struggle by James McGrath Morris (Feb. 17 from Harper) — A biography of journalist Ethel Payne, the "First Lady of the Black Press."
In addition, The Estella Society is hosting a Valentine's Day readalong of Geek Love by Katherine Dunn. I borrowed this book from a friend in town two years ago, at least, and so I need to just read it or return it before it gets lost in my stacks. I'm hoping this will be the push I need to pick it up!
Other than that, I'm hoping to keep reading what I want and what I'm in the mood for. I have a few library books out, including All Our Names by Dinaw Mengestu (fiction) and The Life Changing Magic of Tidying Up by Marie Kondo (nonfiction), so we'll see what happens.
What books are you looking forward to reading this month?