One of the most dangerous things that can happen to a pretty good book is that it gets over-hyped. I love gushing about books as much as the next reader, but sometimes a book can get praised so highly that it's impossible for it not to be disappointing. The two books I'm writing about today both had a lot of hype when they first came out. One held up, while the other didn't quite survive the marketing madness.
Americanah by Chimamanda Ngozi Adichie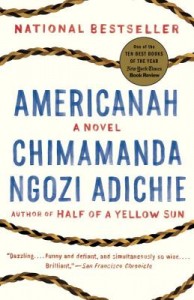 Ifemelu and Obinze are young and in love when they depart military-ruled Nigeria for the West. Beautiful, self-assured Ifemelu heads for America, where despite her academic success, she is forced to grapple with what it means to be black for the first time. Quiet, thoughtful Obinze had hoped to join her, but with post-9/11 America closed to him, he instead plunges into a dangerous, undocumented life in London. Fifteen years later, they reunite in a newly democratic Nigeria, and reignite their passion – for each other and for their homeland.
Man, how many things did I love about Americanah? So many things. It's just such a quietly funny and incisive novel about race and family and how our relationships are affected by where we come from and the identities we carry. Chimamanda Ngozi Adichie doesn't hold anything back as Ifemelu makes her way through some less-than-flattering parts of modern America, but it felt like she approached her commentary with a generosity of spirit. The book does suffer, a bit, from sections with dialogue-as-lecture, but the parts I loved far outweighed that small annoyance. I highly recommend picking this one up.
The Girl on the Train by Paula Hawkins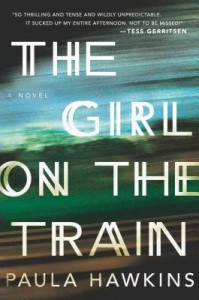 Rachel takes the same commuter train every morning. Every day she rattles down the track, flashes past a stretch of cozy suburban homes, and stops at the signal that allows her to daily watch the same couple breakfasting on their deck. She's even started to feel like she knows them. "Jess and Jason," she calls them. Their life – as she sees it – is perfect. Not unlike the life she recently lost. And then she sees something shocking. It's only a minute until the train moves on, but it's enough. Now everything's changed. Unable to keep it to herself, Rachel offers what she knows to the police, and becomes inextricably entwined in what happens next, as well as in the lives of everyone involved. Has she done more harm than good?
For me, The Girl on the Train was one of those books that suffered because of the hype. All of the marketing for the book that I saw called it "the next Gone Girl" which is both a very high and very specific bar to clear. The comparison works insofar as this is a book with an unreliable female narrator with a few unexpected twists, but other than that it falls short. The Girl on the Train is a decent, page-turning thriller, but it's not nearly as smart or interesting as Gone Girl when it comes to relationships and character development. I liked this one, but I just didn't really love it.
Disclosure: I purchased both of these books for myself!