Three Things is a new occasional series where I'm planning to write about – gasp! – things that aren't actually books. It's based on a blog I'm a big fan of right now, 27 Good Things, where interesting people share three things to read, watch and use. I'm hoping it'll be another way of sharing the stuff that currently has my attention.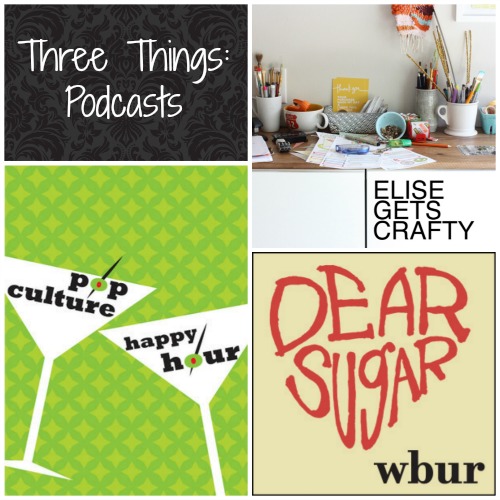 In last Sunday's Currently post, I mentioned that I'm having a hard time with audio books, in part because I'm finally into a good rotation of podcasts that I enjoy. I've been getting to the gym more regularly, and the length of podcasts seems to fit into the time I'm there really well. So I wanted to share three that I'm particularly enjoying right now, plus a few extras.
And as an FYI, I'm an Android girl and listen to most podcasts and music on my phone. My current podcast app is BeyondPod (a paid app after a free seven day trial).
Pop Culture Happy Hour
Pop Culture Happy Hour, an NPR podcast on pop culture and entertainment, is the podcast I've been listening to the longest. Anchored by NPR writers Linda Holmes, Stephen Thompson and Glen Weldon, the topics on this podcast vary pretty widely from movies to television to radio and yeah, a bit into books. Most weeks have a current topic (the movie Jupiter Ascending), an evergreen topic (a discussion of on-screen chemistry), and a segment called "What's Making Us Happy This Week." I love that the show is generally upbeat, but that the hosts aren't afraid to be critical of cultural items that miss the boat in small or large ways. It's just a lot of fun.
Dear Sugar
Dear Sugar is, I think, the newest podcast on my list – not surprising, since it just started at the beginning of 2015. Dear Sugar was an advice column that ran on The Rumpus, authored initial by Steve Almond and, more famously by Cheryl Strayed. Many of Strayed's columns were gathered together in the wonderful book Tiny Beautiful Things. This podcast brings together Almond and Strayed to field questions "no matter how deep or dark" and respond with the "radical empathy" and advice that Sugar became famous for dispensing. There have only been four episodes – it runs biweekly, with shorter episodes on the off weeks – but I'm already hooked. It's so thoughtful filled with generous advice. I always seem to find a moment that speaks to my own life.
Elise Gets Crafty
Elise Blaha Cripe is a craft and lifestyle blogger that I've been reading for a couple of years now (she's the designer of this habit tracker I shared on Instagram). Last spring she started Elise Gets Crafty, a podcast on "blogging, business, creativity, inspiration and motivation," which has been really interesting. Elise talks to bloggers, makers and other DIYers about how they work and what they do, topics I think are fascinating as I too think about building a career that is meaningful to me. I don't listen to every episode, but do really enjoy listening to those where she interviews bloggers or other interesting people about their work and life habits.
Bonus Recommendations
The Book Riot Podcast: I'm not a super regular listener of this podcast, but not because it isn't great – I just get tapped out on book discussion after a bit and want to focus on something else. But when I do listen, I love getting updates on the latest bookish news and new releases.
Planet Money: I am, most certainly, not the first person to recommend this NPR podcast on issues that affect the global economy. I'm a very new listener, but am so far enjoying the fact that it covers offbeat topics (the global cocoa shortage or the growth of the pot industry) and is relatively short (usually less than 20 minutes).