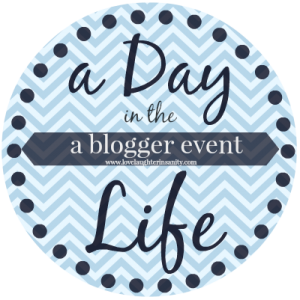 Earlier this month, Trish (Love, Laughter and a Touch of Insanity) invited book bloggers to participate in A Day in the Life, a snapshot of life at the moment tracked throughout a single day. I decided to track my day on Monday, March 23 — a day that ended up being a pretty average, if rather long, day in the life of a small town newspaper editor.
A Day in the Life… of a Community Newspaper Editor
6:00 a.m. | First alarm. Turn off and go back to sleep.
6:30 a.m. | I'm finally awake! I try to get up between 6 and 6:30 a.m. to have some quiet time to myself in the morning to read blogs, eat breakfast and watch television. I'd like to have a more productive morning routine – less social media, more reading or meditating – but I haven't gotten there yet.
7:45 a.m. | Hop in the shower and start getting ready for work. Watch Book Riot videos while getting dressed. I switched out my closet for spring this weekend, right before Minnesota went back to a cold streak, so I have to dig a little bit for something to wear.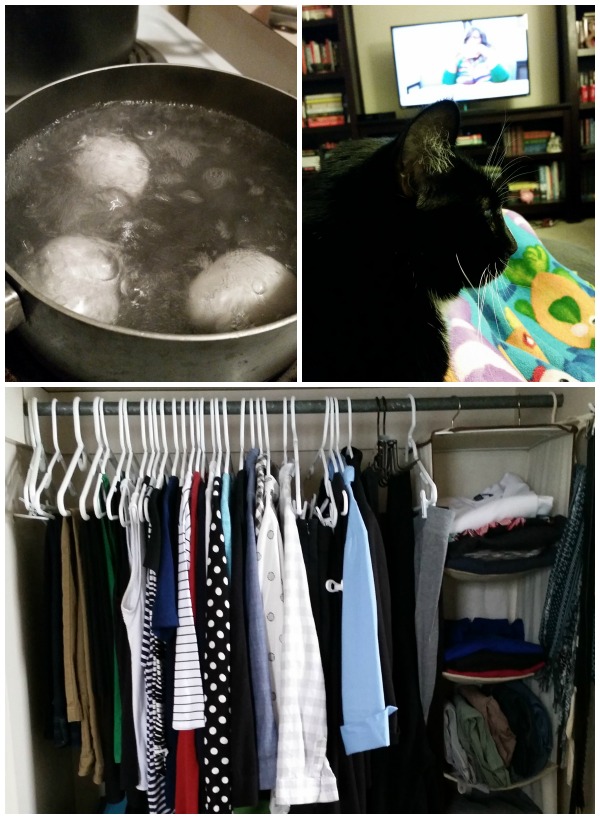 8:30 a.m. | Out the door! Snow. Ugh.
8:40 a.m. | Arrive at work a little earlier than usual. Learn that the photo I thought I needed to take today is actually next Monday… boo.
9:00-ish | Start digging into my e-mail. I let it slide near the end of last week so I've got some catching up to do. Since our newspaper comes out on Saturdays, Monday is often a catch up/plan for the week day.
9:30 a.m. | Get a call from someone asking why a story didn't get into the paper last week. Because I forgot… oops. I'm really better at my job than this!
10:20 a.m. | Done with all the easy e-mails, digging into the more difficult ones. Normally on Mondays at about this time we do a news planning meeting, but our associate editor is out so that will get bumped to tomorrow or Wednesday.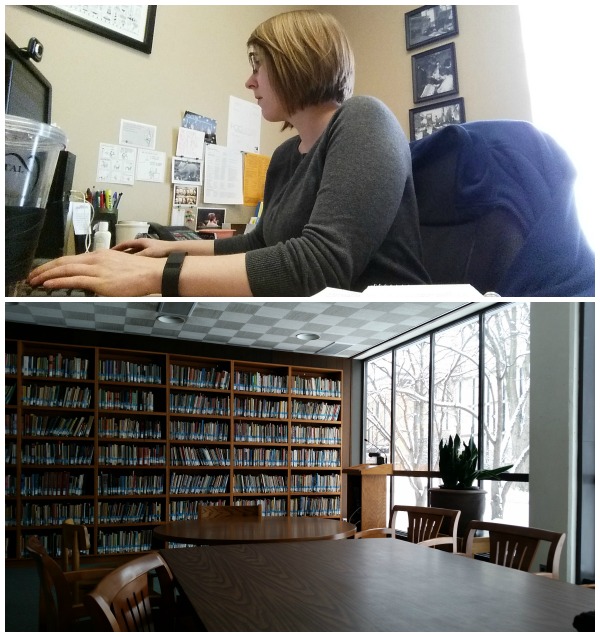 11:45 a.m. | Leave the office for a meeting on campus.
12 p.m. | Meeting! I'm on the planning committee for a college literary festival that's happening this fall. Today we talked about some of the authors we're trying to bring.
12:45 p.m. | Head home for lunch. I'm often bring my lunch to work, but since I was out around noon I just decided to eat at home. In the process of making lunch, I managed to knock a (nearly empty) wine bottle off the top of fridge, glass everywhere… damn! Today I watched some Parks and Recreation on Netflix while eating spaghetti squash with hamburger and marinara sauce.
1:30 p.m. | Stop at the library on the way back to work to drop of a book. I was hoping they'd have Hausfrau, but no luck. Grabbed Florence Gordon off the new books shelves instead.
1:40 p.m. | Back at work. Discover none of my notes from Day in the Life this morning were saved. Try to recreate them from memory. This has NOT been my day.
2:15 p.m. | Spent the last 15 minutes trying to put a story on our website, being foiled by the fact that I can't add a picture. Why???
2:50 p.m. | Changed focuses and started working on a short story about some new bilingual books in our school library. It didn't take too long – not much real reporting – but it's nice to get some of these small, nagging projects off my plate today.
3:30 p.m. | Caffeine (cranberry blood orange black tea) and snack (Cheeze-Its and Trader Joe's Raisin mix) break to troll around on Twitter and check some other news sites.
4:00 p.m. | It it taking me a stupid long amount of time to make some small changes to our website. It's being buggy today. Whatever. I need to do some prep for our school board meeting tonight.
4:45 p.m. | Heading home!
Work Evening in the Life
Monday happened to be a day where I also needed to work at night, so this is what a typical work evening looks like.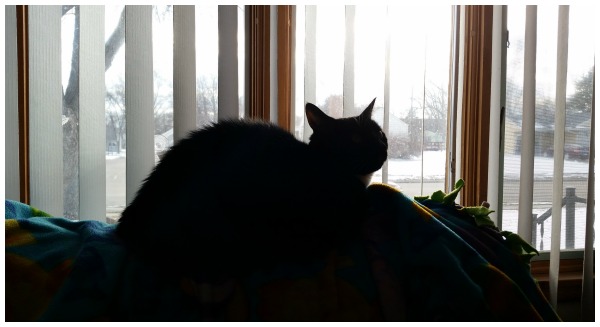 5:10 p.m. | Nevermind! I spent some time chatting with a coworker, then came home. Since I have to go to a meeting, I made some rice and wontons to eat with some leftover Chinese food. The boyfriend and I watched part of The Last Man on Earth while eating.
5:50 p.m. | Rush out the door to get to a school board meeting. I regularly cover our school board, city council and county commissioners. School board is probably the toughest of the three, for me, because the meetings are long and school financing is really hard to understand.
6:00 to 8:50 p.m. | A long, long meeting, full of discussion about transportation, technology, the school calendar, and hiring a new superintendent.
9:00 p.m. | Whew, I'm finally home. I switch into pjs immediately, edit and schedule my blog post for tomorrow, make some tea and find a spot on the couch to read for just a little while before bed.
10:15 p.m. | Lights out!
Home Evening in the Life
I don't spend every evening working, so I decided to also track some time on an evening at spent at home (Wednesday, March 25).
5:30 p.m. | Home from work. Check the mail, empty out my purse. Talk dinner plans with the boyfriend before he hops in the shower. Change into clothes for the gym. Check schedule and see the class I want to go to is cancelled! Now what?
5:45 p.m. | Decide to go to the gym to walk after dinner. I hate that it got cold again this week and it's too unpleasant to walk outside. Turn on Spotify's Mood Booster playlist and get some meat cooked. Clean the kitchen. Break plate. Blech.
6:30 p.m. | Dinner and Last Week Tonight with John Oliver.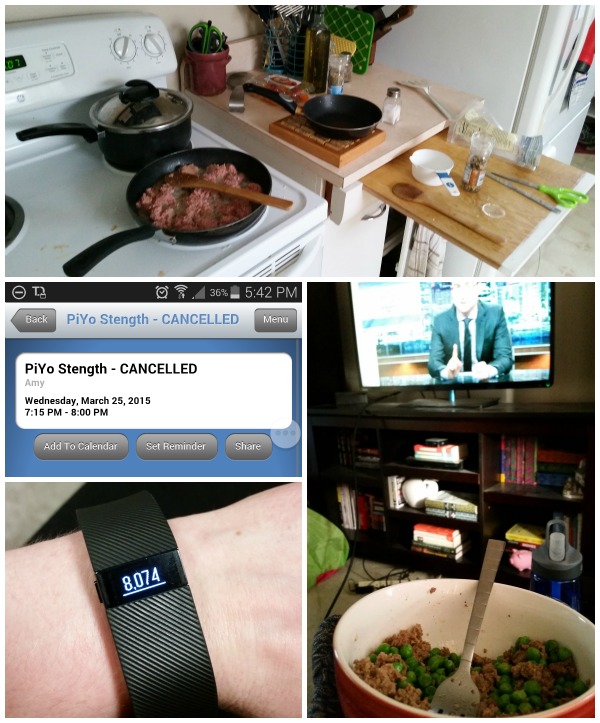 7:00 p.m. | Head to the gym to walk on the track.
7:50 p.m. | Hit my step goal (8,000), so heading home.
8:00 p.m. | Change into my pjs then spend some time on blog projects – scheduling my post for tomorrow, responding to comments, addressing some review copy requests. Comments are, I think, the limiting factor in my blogging. It takes me a long time to respond and to try and visit back.
8:45 p.m. | Calling it a night on computer stuff. Grabbing a cup of tea and trying to settle in with a book until bedtime.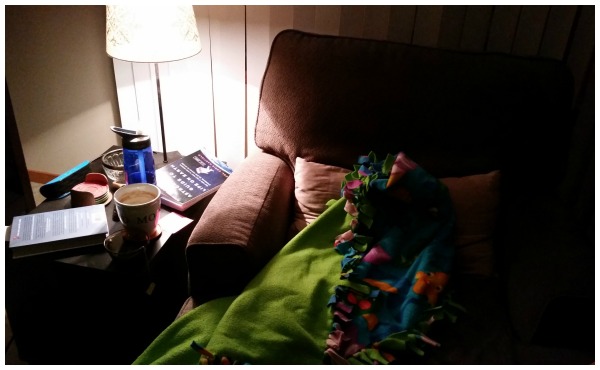 9:00 p.m. | Alarm goes off reminding me to wash my face and brush my teeth. This is supposed to be the start of an evening routine where I get off my computer and my phone an hour before bed to ease into sleep better… but I'm a smartphone addict and that doesn't always happen!
10:05 p.m. | The boyfriend is off to bed, but I'm still fully absorbed in An Astronaut's Guide to Life on Earth. More reading!
10:38 p.m. | Stayed up way too late reading. And now the boyfriend is snoring like a monster. This will be fun…
Thanks for reading about my day — if you have any questions about work or home, leave them in the comments!