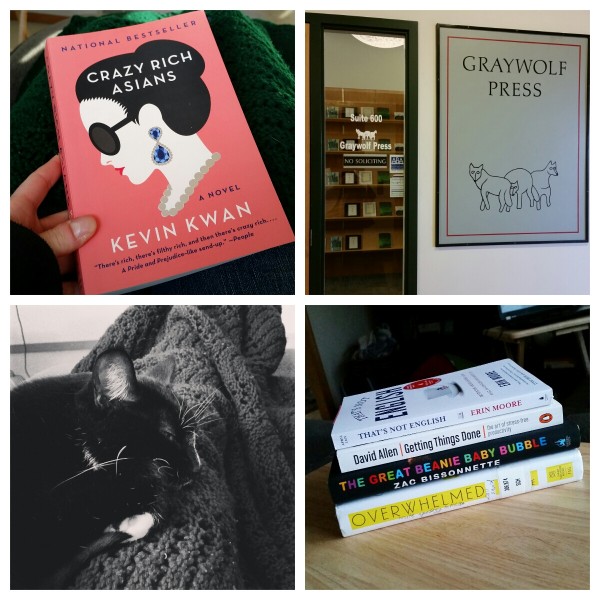 Time and Place | About 7:30 a.m. in my favorite chair at home. I don't like how dark it is this early in the morning, thanks to the time change. But oh well, it's spring now.
Reading | I finished more books in the last two days than I finished in the rest of the month of March combined. It's been a tough month to settle in with a book, but I'm trying to make time when I can. I start to get a little out of sorts when I go too long without reading. On Friday night, I stayed up late finishing Crazy Rich Asians by Kevin Kwan, a sort of Pride and Prejudice satire set in contemporary Singapore and China. Yesterday, I started and finished The Great Beanie Baby Bubble by Zac Bissonnette, a look at the rise and fall of the speculative mania around Beanie Babies in the last 1990s. I also started Overwhelmed by Brigid Schulte, but the first couple chapters on the time pressures of modern life made me anxious. I'm going to give it a few more chapters today before I decide whether to quit reading and move on to something else.
Listening | The soundtrack from the first season of FOX's Empire is on Spotify, and I kind of love it.
Blogging | Since I last updated, I wrote about why I loved Nina MacLaughlin's Hammer Head, three things that help me get stuff done, and why I'm intimidated by brutal fiction.
Promoting | This New York Times opinion piece on the cost of paying attention is worth reading. The author, Matthew Crawford, has a book coming out April 1 (The World Beyond Your Head: On Becoming an Individual in an Age of Distraction), that I'm now curious to read. 
Laughing | Will Ferrell played for 10 different baseball teams during one day at Spring Training. The recap is delightful.
Hating | I can't figure out why two images are showing up at the top of each of my new posts in an RSS reader. I think it has something to do with adding a featured image… but I don't know how to fix it. Boo.
Loving | After a couple weeks of challenging discussions about sexism in publishing, Preeti Chhibber started a cool hashtag on Twitter to celebrate #womeninfiction. It's pretty awesome. Here's my best contribution:
Hermoine for always being smart and strong and standing up for what she believes in… even when standing up is hard. #womeninfiction

— Kim Ukura (@kimthedork) March 21, 2015
Loving II | Because I skipped writing a Currently post last Sunday, I didn't get to squeal about my visit to Graywolf Press in Minneapolis last week. Graywolf is an awesome independent, literary press in the Twin Cities that publishes a range of great poetry, literature and nonfiction. They're on a streak of amazing nonfiction by smart women (On Immunity by Eula Biss and The Empathy Exams by Leslie Jamison), and I'm excited to dive into some of the books I brought home from my visit.
Wanting | I'd like to spend some time participating in the Bloggiesta this week, but I think work is going to be pretty hectic and I'm not sure I'll get much blog work done.
Anticipating | Trish (Love, Laughter and a Touch of Insanity) is hosting a cool blog event this Friday — A Day in the Life. Basically, she's asking bloggers to keep track of one of their days, then share a post about it at the end of this week. I'm planning to track my day tomorrow. It should be really fun to see how other bloggers spend their time.
Happy Sunday, everyone! What are you reading today?