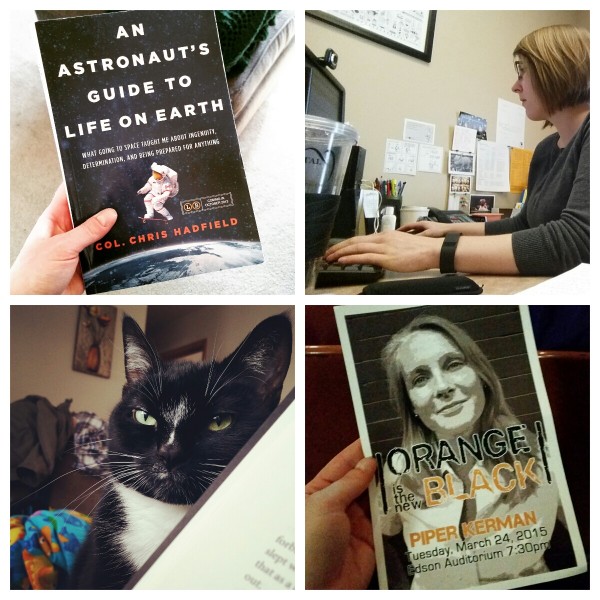 Time and Place | Just after 10 a.m. sitting on my couch. We had friends over last night and ended up hanging out with them until far past my bed time… it's been a slow morning.
Reading | It's been a good week of reading! I spent most of the week reading That's Not English by Erin Moore, a book looking at differences in language and culture in the United States and England. I liked it a lot. After that, I picked up An Astronaut's Guide to Life on Earth by Col. Chris Hadfield, a memoir by a retired Canadian astronaut who most recently served on the International Space Station. It was also really delightful. At the moment, I'm finishing up a young adult novel, The Walls Around Us by Nova Ren Suma, all about ballerinas and prisoners. It's a little paranormal and creepy, but also great.
Not Reading | Last week, I mentioned that I started Overwhelmed by Brigid Schulte, but reading it was making me feel anxious. A couple of people asked about that in the comments, so I thought I'd elaborate. One of my "genre kryptonites" is books about time management, especially motherhood and time management. I don't have kids, but reading about it is one of the ways I'm helping myself think about whether I want kids or not. The first few chapters of Overwhelmed were filled with these rushed stories about mothers running late and working constantly and ferrying kids around that made me want to bury my head in the sand… so I returned it to the library.
Watching | I think my friend Carrie and I are going to see Insurgent this afternoon. Insurgent was my least favorite of the three Divergent books, but I'm hoping the movie will be better.
Listening | Piper Kerman, author of Orange is the New Black, came to our local college campus this week for a convocation. I enjoyed hearing her speak — she's very funny — but didn't think she covered anything especially earth-shattering.
Blogging | This week I shared reviews of The Great Beanie Baby Bubble by Zac Bissonnette and The Monopolists by Mary Pilon and took a look in my mailbox this month.
Promoting | I also participated in Trish's A Day in the Life project. You can read my post about an average day for a community newspaper editor, and also be sure to check out all the posts on the event link up. I'm about a third of the way through reading them and they are super interesting.
Hating/Loving | Brenna Clarke Gray wrote an amazing and chilling post called "Why I Quit Goodreads (or, The Bookternet is Not Safe for Women)" that I think everyone should read. I'm so lucky have avoided online harassment for sharing my opinions on books… but I know it's always a possibility.
Loving | I just happened to finish up An Astronaut's Guide to Life on Earth a day after astronaut Scott Kelly and cosmonaut Mikhail Kornienko left Earth to begin a year in space aboard the International Space Station. Their year in space will help scientists understand how long-term space travel (the kind we'll need to ever go to Mars) affects humans. I'm so excited to follow along!
Avoiding | I still haven't figured out to deal with the two images in my RSS feed issue since my theme update… I'm getting discouraged. (Update: I think I fixed it? I would love confirmation or denial from folks reading this in RSS or via e-mail).
Anticipating | Despite my late start to the day, I'm looking forward to a not-entirely-lazy Sunday. We got the house clean for guests last night, so I should have few chores and lots of time to read and blog before and after the movie this afternoon.
Happy Sunday, everyone! What are you reading today?