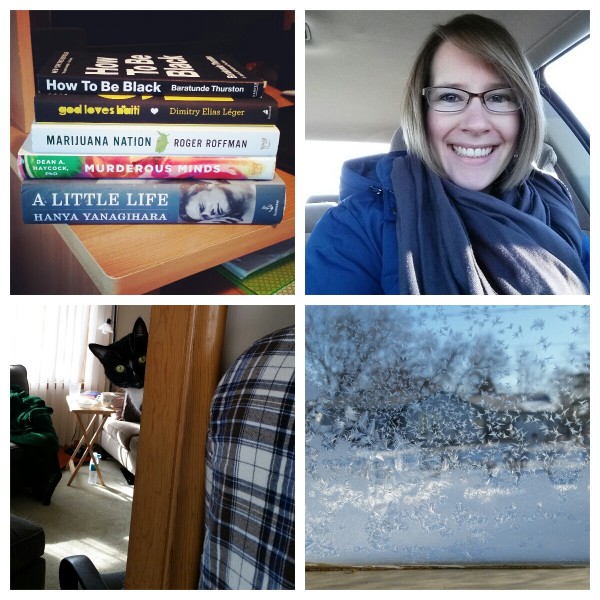 Briefly | I spent a good chunk of time yesterday doing some behind the scenes blog work, upgrading my current theme, then trying to make the blog do and act like I want it too. This is still a major work in progress, so I hope you'll forgive the mess for the next few weeks while I keep tweaking.
Time and Place | 7:30 a.m. at my desk, trying to enjoy my fourth weekend bundled up at a home.
Eating and Drinking | My second Whole30 is officially done on Wednesday and I'm really ready to be done. I'm glad I tackled this eating challenge a second time (read about my first here), since it reminded me it's possible to eat well if you put some effort into it, but I'm just kind of over it at this point.
Reading | I just finished one book this week, The Lost Boys Symphony by Mark Andrew Ferguson (March 24 from Little, Brown). It was delightful and weird and heartfelt, although a little hard to follow because of some of the genre elements that popped up. Overall though, I loved it. Since finishing I've been dipping in any out of some nonfiction — The Monopolists by Mary Pilon (secret history of Monopoly!) and Water and What We Know by Karen Babine (essays on water and the ethic of place). I got no reading done yesterday — thanks blog updates — so I'm hoping to settle in for a bit later today.
Watching | The series finale of Parks and Recreation was this week, and while I didn't love the finale, I am so delighted with the series as a whole (and especially the final season). To drown my sorrows at the ending, I spent most of this week reading Parks and Recreation think pieces: What Parks and Recreation taught me about life (Washington Post), How Parks and Recreation managed to survive for 7 seasons (Vulture), 16 Parks and Recreation moments that will stand the test of time (EOnline), and Everything we need to know in life we learned from Parks and Recreation (Head Over Feels). I also highly, highly recommend the series of interviews and pieces collected over at HitFix — they're remarkably interesting.
Making | I wish that I were making the incredible new bookshelves that Kerry (Etymology of a Bookworm) shared this week. They're beautiful.
Blogging | This week I reviewed Americanah and Girl on the Train, and shared the books that arrived in my mailbox in February.
Promoting | There were a couple of great posts from bloggers about the idea of being superwomen — Getting Real: We're Not Wonderwomen by Andi (Estella's Revenge) and Principles, Plagiarism, and Pressure: Or, Superwoman is Not a Book Blogger (and Vice Versa) by Florinda (The 3R's Blog). If you are a blogger, read these!
Hating | Doing behind the scenes blog work comes with the territory of being self-hosted but ugh, do I hate doing it. That's why my blog framework and design hadn't changed in forever (I think at least four years). I'd much rather spend time reading, writing and commenting… three things I haven't done any of this weekend.
Loving | On the other hand, I'm so glad that doing these updates means my blog functions appropriately on a mobile site. That's been a thorn in my side for awhile.
Avoiding | I need to go grocery shopping and do some cooking today. But I want to read!
Anticipating | I got some great book mail this week — a couple books I requested, a couple I bought during HarperCollins' Black History Month sale, and one that I wasn't expecting. I think the first of the new books I get to read will be How to Be Black by Baratunde Thurston.