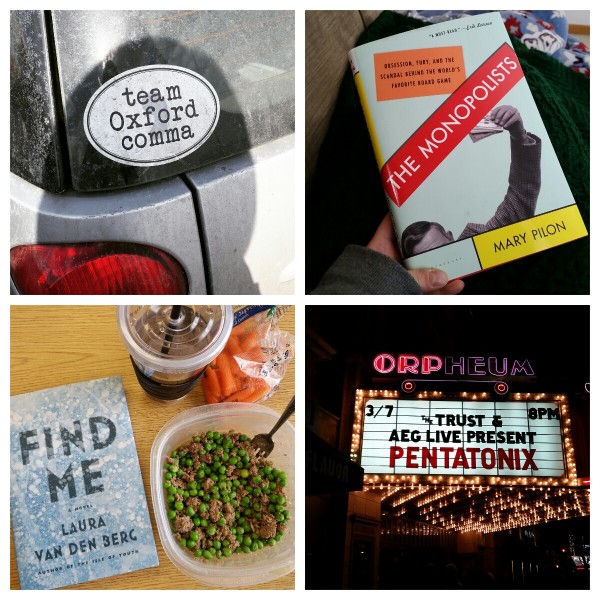 Time and Place | I think it's about 9 a.m.? I know that I'm on my sister's couch in Minneapolis. Daylight Saving Time always messes with me a little bit.
Reading | This week I finished The Monopolists by Mary Pilon. This narrative history of the board game Monopoly was perfectly in my wheelhouse of readable, quirky nonfiction. At the moment, I'm in the middle of How to Be Black by Baratunde Thurston, a mix of memoir and humorous essays about ideas of blackness and how they're being challenged. I also started Laura van den Berg's new novel, Find Me, which has some dystopian similarities with Station Eleven by Emily St. John Mandel.
Watching | The boyfriend and I watched the first couple of episodes of FOX's new show The Last Man on Earth, which we liked a lot. We both laughed out loud at many jokes and visual gags — a good sign for a new show.
Listening | I fell hard for a couple of playlists this week: Spotify's Acoustic Concentration (perfect for writing or blogging) and Greatist's Ultimate Cooking Playlist. I didn't know I wanted a specific playlist for cooking until I put this one on and it was perfect.
Cooking | My new favorite work lunch is ground turkey mixed with frozen peas, with some Trader Joe's Garlic Salt Seasoning on the top. It's super simple, but so delicious.
Blogging | This week I reviewed Being Mortal by Atul Gawande and shared my February reading wrap up. I highly recommend Being Mortal, if you haven't read it yet. I'm also feeling good about the blog updates I did last weekend, and the updated header I made this week (new South Park character!).
Promoting | My favorite blog post from this whole week was from Shannon (River City Reading) — Read This, Watch That: Nonfiction from Page to Screen. I wish I had thought of this post!
Promoting II | I loved this Book Riot post about The Any Book Book Club. I want to start one of these!
Loving | My sister and I went to see Pentatonix last night — so awesome! And then we managed to be home and in our pajamas by 10 p.m. — also awesome!
Avoiding | I took a vacation day tomorrow, so I am actively trying not to think about work. This week at the office was a little stressful, so getting myself out of that mindset has been hard.
Wanting | I am not much for bumper stickers, but I might make an exception if I could declare myself Team Oxford Comma.
Anticipating | My sister and I have a full day of shopping today, including stops at two different grocery stores and World Market. Then we're coming home to binge on Netflix and make burrito bowls for dinner. It's a good weekend.
Happy Sunday, everyone! What are you reading?