Hooray hooray, March is over. I can't even tell you how happy that makes me. And Minnesota even escaped March with only a couple days of significant snowfall. Not too shabby, spring. Now that I've said this, we'll probably get three feet of snow in April and not see ground again until May… oops.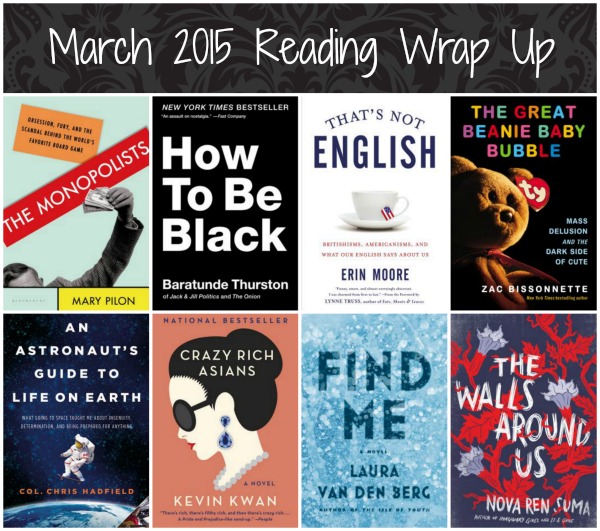 Anyway, my reading this month wasn't too bad either — good variety, and a lot of books that I've been recommending to other readers. Here's what I picked up:
Pilon, Mary: The Monopolists (nonfiction)
Thurston, Baratunde: How to Be Black (memoir)
van den Berg, Laura: Find Me (fiction)
Kwan, Kevin: Crazy Rich Asians (fiction)
Bissonnette, Zac: The Great Beanie Baby Bubble (nonfiction)
Moore, Erin: That's Not English (nonfiction)
Hadfield, Chris: An Astronaut's Guide to Life on Earth (memoir)
Suma, Nova Ren: The Walls Around Us (YA fiction)
Despite getting a slow start to the month, I found a reading groove over the last couple of weeks and finished up some excellent books. The Great Beanie Baby Bubble will probably make it into my favorite books of the year, and both Crazy Rich Asians and The Walls Around Us were fun fiction picks that are a little outside the box for me. And I'm pretty sure that An Astronaut's Guide to Life on Earth is going to start me on a rabbit hole of books about space… look for those soon!
Quarterly Goals Review
Since we just finished the first three months of 2015, I thought this would be a good time to quickly review the goals I set for my reading in 2015.
My first goal was to complete the 2015 TBR Pile Challenge, organized by Adam at Roof Beam Reader. Of the 14 books on my list (12 choices, plus two alternates) I've read… two books (Americanah by Chimamanda Ngozi Adichie and An Astronaut's Guide to Love on Earth by Col. Chris Hadfield)! This puts me a little behind, but not so far behind that I couldn't still finish this one. Exciting!
My second goal was for 25 percent of the books I read to be written by authors of color. Of the 26 books I've finished this year, 15 were by white authors, eight were by authors of color and three were "other" (primarily comics, which I consider collaborative projects). That's about 30 percent for diverse authors — not too shabby!
I also said I wanted to get my entire book collection cataloged in LibraryThing. I've made absolutely attempt to start that one, but there's still plenty of time left in 2015 — making progress on two of my three goals is good enough for me.
How has your reading been in the first three months of 2015? What's you favorite book so far this year?