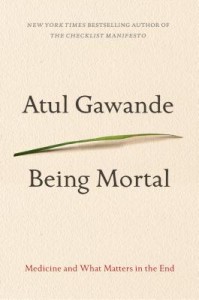 Earlier this week, a friend and I went to see Still Alice, a movie about a 50 year old linguistic professor diagnosed with early onset Alzheimer's Disease. Alice, played by Julianne Moore, tries to manage her disease as long as she can, but eventually can't be left alone. In one of many heartbreaking scenes, her husband and children sit at the kitchen table, trying to decide who can care for Alice while Alice sits almost unknowingly on the couch, unable to make decisions for herself any longer or even understand the decisions her family was trying to make.
As I sat, crying, for most of the end of this movie, I couldn't help but think about some of the issues that Atul Gawande brought up in his most recent book, Being Mortal: Medicine and What Matters in the End, which I'd just finished reading.
Talking about death or debilitating illness is one of the most difficult conversations to have, but it may be one of the most important. In Being Mortal Gawande explores this challenging topic, looking at our modern experience of mortality and how modern medicine can and cannot address this time in our lives (emphasis mine):
You don't have to spend much time with the elderly or those with terminal illness to see how often medicine failed the people it is supposed to help. The waning days of our lives are given over to treatments that addle our brains and sap our bodies for a sliver's chance of benefit. They are spent in institutions – nursing homes and intensive care units – where regimented, anonymous routines cut us off from all the things that matter to us in life. Our reluctance to honestly examine the experience of aging and dying has increased the harm we inflict on people and denied them the basic comforts they most need. Lacking a coherent view of how people might live successfully all the way to their very end, we have allowed our fates to be controlled by the imperatives of medicine, technology and strangers.
One of the more striking sections, for me, was thinking about how expectations for aging are different between caregivers (often adult children) and the elderly. While safety is often cited as a priority for caregivers and nursing homes, many elderly people instead hope to maintain a sense of autonomy, routine and independence. The question then becomes whether it's better to make decisions that help people be safe (perhaps at the expense of their happiness or pursuit of simple pleasures) or find ways to help them live as independently as possible. There are a lot of different models to consider, and I hope that options for care continue to improve.
Everything that Gawande writes about his experience as a doctor and the experiences of other doctors, patients and families trying to navigate end of life care is smart and thought-provoking. But this book is truly elevated by what comes next – a close, heartfelt and honest account of his own father's death. Gawande's experience helping his parents through a challenging diagnosis and the decisions that come with intervention or palliative care for the elderly was so moving for me to read. I didn't realize how invested I was in feeling in this individual experience until I was crying through the last pages. It was remarkably good.
Of course, a lot of the emotional heft of reading a book like this one comes from thinking about your own family and experiences with aging and dying. If there's one takeaway from this book, it's that having conversations about end of life care with the people you love is hard but very necessary. We all have individual needs and expectations for what our lives will look like as we age, and the only way to honor them is to truly listen. This book is a great way to start those conversations.
Other Reviews: S. Krishna's Books | Read Around the World |
Backlist Bump: Knocking on Heaven's Door by Katy Butler