Three Things is a new occasional series where I'm planning to write about – gasp! – things that aren't actually books. It's based on a blog I'm a big fan of right now, 27 Good Things, where interesting people share three things to read, watch and use. I'm hoping it'll be another way of sharing the stuff that currently has my attention.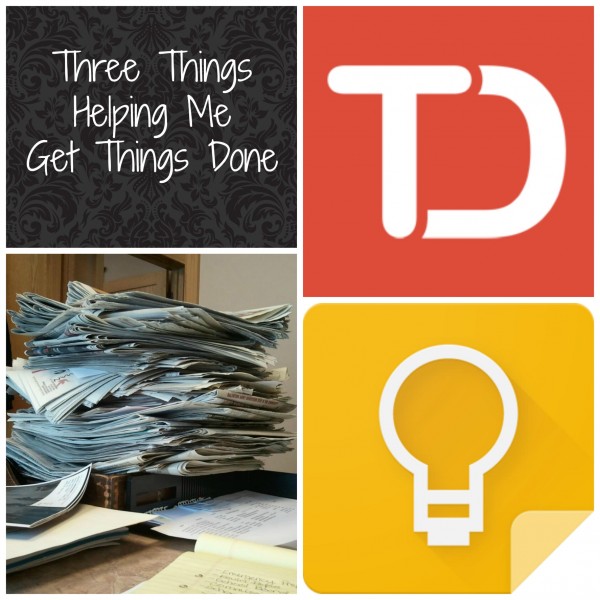 Today is an exciting day for productivity nerds — an updated version of David Allen's productivity tome Getting Things Done is out today! I read this book for the first time last year and while I haven't implemented the whole GTD system, parts of it have really helped me feel like I am more on top of all the things I need to keep track of. In honor of the book's release, I decided today's Three Things post would focus on things that help me get stuff done.
As an aside, it's a little ironic that this post is going up today, since I spent the last two day sitting on my couch watching Netflix/Hulu (no joke, I'm too embarrassed to even tell you how many hours of Parks and Recreation and Empire I went through). During my non-sloth weeks, I'm actually pretty efficient… this is not one of them. Good thing I have a new copy of Getting Things Done on the way. Anyway, on to my three things!
Todoist
I've played around with a ton of different digital and analog task management systems, and Todoist is the first one that actually stuck. Getting a little meta, here are three things I love about it:
Todoist is accessible across devices and platforms. I can use it on my phone, tablet, and computer with no problem, and it's always in sync. This is huge for me, both for convenience and for making sure I'm on top of tasks.
Todoist is great at recurring tasks. It's really easy to set up reminders every day, every week, every month or even every year. And you can even set up tasks to recur a certain amount of time after you completed it last. Recurring tasks help me not have to think about stuff like what day I need to take out the recycling.
Todoist also syncs with several e-mail applications so I can save emails as tasks. I'm not an Inbox Zero fanatic, but it is nice to be able to save e-mails with a specific deadline as a task so they can get out of sight until I need to look at them and hit a deadline.
I think these are all features in the free version (maybe not saving e-mails as tasks, I can't remember on that one), but I think the premium version is worth the cost. Todoist is my online brain — a key component for the GTD system.
Google Keep
Android and Google own my digital life, so it's probably not surprising that I love Google Keep, Google's notes app. I use this app to store tons of random stuff — notes on books I'm reading, shopping lists, reminders from meetings. It's easy to create new notes, and get rid of notes you don't need any more. And, it syncs across my devices with ease. I love that. It's not a very fancy app, but I don't really need that for taking notes so it works for me.
Friday Night Clean Up
This isn't an app, but it's a habit I've been sticking with for the last few months that has made a big difference in my life. Every Friday after work I spent 30 to 45 minutes cleaning up my house. This can be anything from washing dishes to sorting my dirty laundry to clearing papers off my desk. The point is to get the house to a relatively neat place so I don't get up Saturday morning and feel like I have to do a ton of chores right away. It's amazing what this little change has done for making my weekends feel more relaxed. I've also tried implementing a Sunday night clean up, which I'm less consistent at but also really helps my mood when I can get it done.
What are the apps and habits that help you get things done?