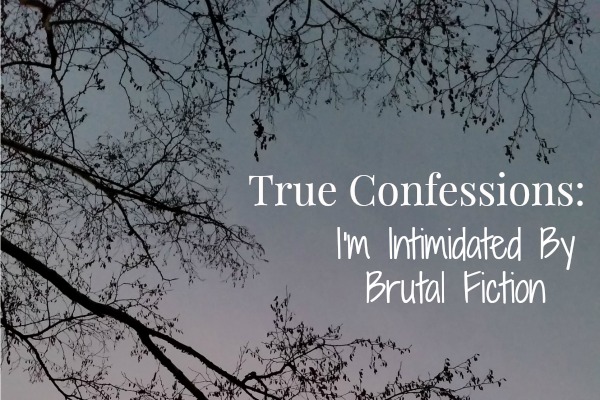 Last week over at Book Riot, Andi (Estella's Revenge) wrote about her current genre kryptonite — "novels built on brutality and personal struggle." I was struck by her post because, as I think about it, I am nearly the exact opposite. I don't look for happy fiction, but I seem to have a really hard time getting myself to pick up books that I know will be brutally hard to read.
That doesn't seem to be the case with nonfiction. After the shootings at Sandy Hook Elementary School, I picked up Dave Cullen's Columbine, a nonfiction account of the 1999 massacre at Columbine High School, as a way to process something as inexplicable as a shooting at an elementary school. And I've read other nonfiction that I'd consider brutal, either for the content (In Cold Blood by Truman Capote) or the social ills it addresses (The Men We Reaped by Jesmyn Ward).
But I am not nearly this brave when it comes to my fiction. Brutal fiction intimidates me.
I want to follow the buzz (and genuine love) towards the books that I know are challenging but worthwhile reads. I have a copy of A Little Life by Hanya Yanagihara sitting on desk right now, but knowing how raw the story is makes me too nervous to grab it. I've purchased copies of An Untamed State by Roxane Gay and Ruby by Cynthia Bond, but they are sitting on my shelves too. I've returned countless other emotionally challenging but well-regarded books to my local library after valiantly checking them out then avoiding them like the the plague.
On the one hand, I don't think there's anything wrong with wanting to avoid some of the truly heart-wrenching, gut turning things that writers can explore in their fiction. The world is hard, and even people like me with truly good, blessed lives have times that are filled with sorrow and personal challenge. In those moments, fiction (and nonfiction) can be an escape from those realities into worlds that are kinder and simpler that the world we actually inhabit.
What bothers me about my avoidance of books like these is that I feel like I'm deliberately cutting myself off… from trying to understand another experience, from feeling a story from a book deeply, from allowing myself to be bowled over by our human capacity to survive and endure. I don't want to limit my reading life in that way, but I also don't know what kind of prodding I need to actually go there and just pick up the darn book.
I'm curious to hear your thoughts.
What makes you pick up or avoid books on difficult subjects? What do you look for in books that you know will be brutal reads? How do you get yourself to pick up books you know will be hard but also entirely worth it?