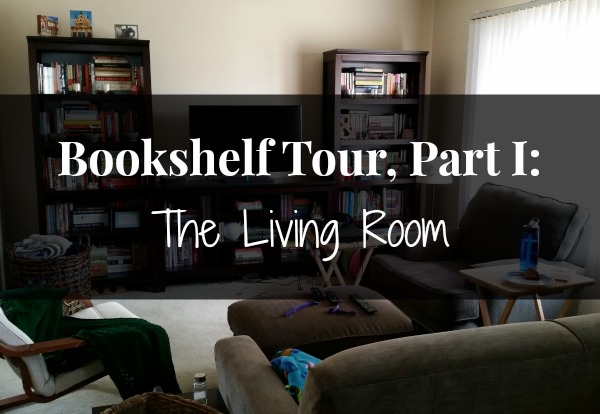 The first thing I do when I visit someone new for the first time is sneak a few peeks at their bookshelves. The books we save and display can tell a lot, especially if you start talking to someone about them. I've been meaning to do a little bookshelf tour of our house since we moved in last August… but just got my act together to do part of it over the weekend. The bookshelves in my office are, at the moment, to much of a disaster to put on the Internet, so instead, I'm going to show off the bookshelves in my living room.
I've always wanted to live in a house with a wall of books, but because we're renters that's impossible. This arrangement — two tall bookshelves with a bookshelf functioning as a tv stand — is about as close as I'm going to get until we own a house. It's not quite perfect, but boy, do I love it. The shelves contain, almost entirely, books that I've read and loved enough to keep.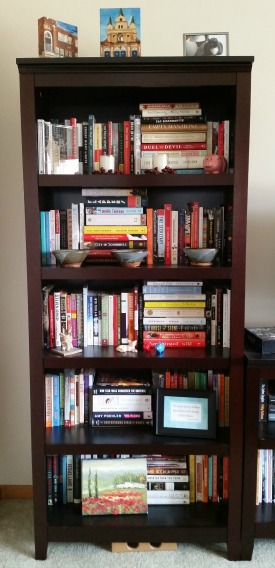 The shelf on the left side of the room is for nonfiction. It's arranged mostly alphabetically by author, but I do have some large hardcovers sitting horizontally because it seems to save space and I like the way it looks better. I've toyed with the idea of arranging books by color, but I also think that can look staged. This feels more "natural" to me. Oh my gosh, I'm such a nerd.
They're a little hard to see, but the shelves are also decorated with some of my favorite things. I bought the paintings on the top shelf when I was in college. The bowls on a middle shelf were a gift from a college friend who took a potter class. There are many little figurines of pigs on the shelves because they're my favorite animal (weird, I know). The frame near the bottom as one of my favorite quotes from Eleanor Roosevelt, "The future belongs to those who believe in the beauty of their dreams."
The first book on the top left of the shelf is One Hundred Names for Love by Diane Ackerman, and the last book on the bottom right is Proust and the Squid by Maryanne Wolf.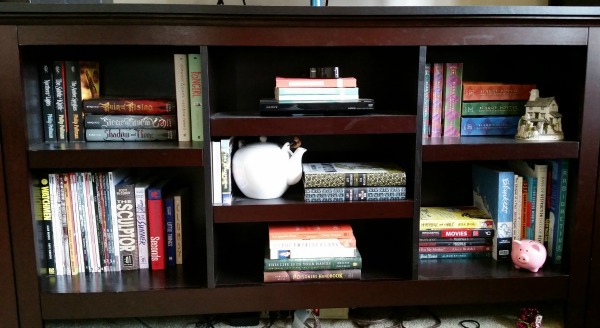 The middle shelf is one we bought new when we moved into this house so our old tv stand (which I did not like) could be used with our second tv in the basement. Since it was new, this one has been the most challenging to try and fill decoratively — I ended up focusing it on favorites and books that I think go together (regardless of whether I've read them or not).
The top left is some favorite YA books: His Dark Materials trilogy by Philip Pullman, The Grisha Trilogy by Leigh Bardugo, and some Rainbow Rowell. Bottom left is all of my fiction comic books, including trades of series like Saga and Alex + Ada and individual volumes like The Sculptor by Scott McCloud and Seconds by Brian Lee O'Malley. I've read some, but not all, of these comics.
The middle shelves have books by Anne Fadiman on the top, The Magician's trilogy (minus a book borrowed to a friend) in the middle, and my favorite nonfiction on the bottom — Tiny Beautiful Things, The Empathy Exams, The Spirit Catches You and You Fall Down, This Life Is In Your Hands and The Poisoner's Handbook. On the right side you'll find the Harry Potter series and my nonfiction comics/illustrated books.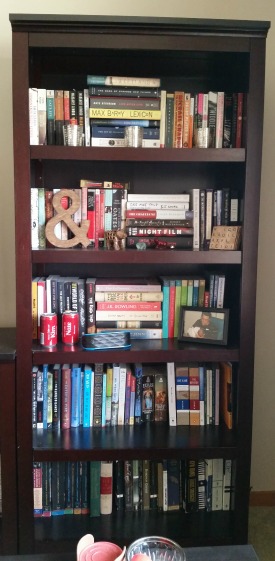 The tall shelf on the right is more of a mixed bag. In our old house, I only had a small shelf for fiction that I read and loved enough to keep. I had to do a little mixing of genres to fill this one up entirely.
The top three shelves are for adult fiction. The first book on the top left is Americanah by Chimanda Ngozi Adichie, followed closely by my Margaret Atwood collection. The last fiction book on shelf three is The Book Thief by Marcus Zusak… but now I'm thinking maybe that should be on the YA shelf? In any case, the fiction on shelf three is followed by all of my Best American Essays volumes and my books with other reading lists of books.
The fourth shelf is a mix of young adult fiction, some YA-focused nonfiction, fantasy and poetry. It's probably the most eclectic shelf of books in my entire house because I like my books to be organized. The mixing sort of drives me crazy. The bottom shelf is for classics, starting with my Norton anthologies from college. I really feel like I should get rid of those… but I just can't.
And if you look closely you can see more pigs, a photo of my grandpa, and some customized mini Coke cans the boyfriend's mom gave to us.
So there you have it, a little peek at some of the bookshelves in my house. I'll try to get my office a little more cleaned up and share those shelves soon. How do you have your bookshelves organized?