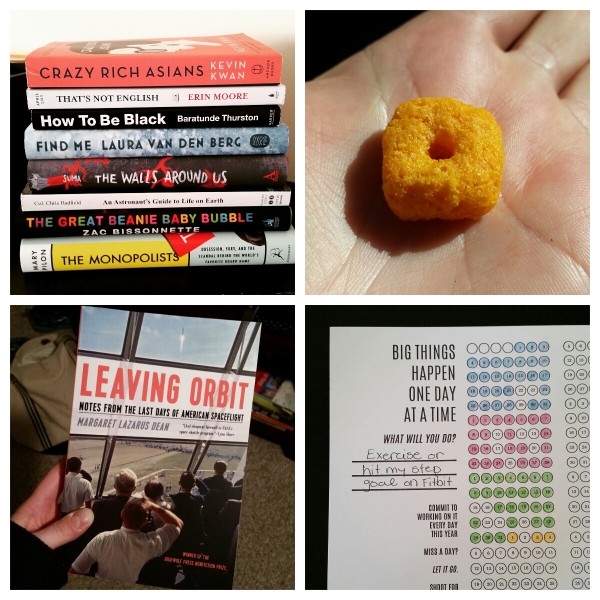 Briefly | It's been a bit of a rough week. A couple of really wonderful people in our community passed away after long struggles with cancer, and although I didn't know them well I know they are going to be missed by many, many people.
Time and Place | Just before 7:30 a.m. on my parents' couch.
Reading | My reading this week has been pretty sporadic, which is too bad because I have two deadlines — one freelance (Palimpsest by Matthew Battles) and one book tour (Smash Cut by Brad Gooch) — coming up this week. I've been trying hard to space out obligation reads, but these two bumped together and I'm struggling a little bit to get motivated. When I wasn't reading either of those, I've been making my way through Meet Me in Atlantis by Mark Adams (started funny, but is starting to lose me around page 100). I'm probably going to switch it up and grab what I really want to be reading — Leaving Orbit by Margaret Lazarus Dean, a new nonfiction title from Graywolf Press about the end of the American shuttle program. So many books, so little time.
Watching | I needed a new half-hour comedy to watch, so I decided to start Friends (available on Netflix). I was too young for the show when it debuted and didn't really start watching when I aged in, so I'm coming at it as a newbie. So far, it's fun.
Watching II | This time-lapse video of summer in Minnesota freelance photographer Chad Halvorson is one of the most beautiful things I've ever seen. This is why Minnesotans put up with the our insane winters.
Blogging | This week I shared my March 2015 reading wrap up and took a look at how I'm going on my 2015 reading goals, and reposted a Book Riot piece on nonfiction to read if you loved Americanah by Chimamanda Ngozi Adichie.
Promoting | Dewey's 24 Hour Readathon is coming up this month (April 25)! At this point, my schedule is clear for that weekend… and I'm going to work hard to keep it that way.
Hating | Over margaritas on Thursday night, a friend told me she'd been battling a feeling of ennui — "a feeling of utter weariness and discontent resulting from satiety or lack of interest" — most of the week. I'm starting to think ennui is contagious and I caught it from her. I need something to kick start a cheerful attitude.
Eating | The boyfriend found these weird puffy Cheez-Its when we stopped for snacks yesterday. It's like eating a Cheeto, but it tastes like a Cheez-It. So weird!
Exercising | I did pretty well with my walk/exercise goal in March, until the final week of the month. But so far I've only missed 15 days days this year, which isn't too shabby.
Anticipating | In a few hours we'll be heading over to my Grandma's apartment for Easter lunch. I'm excited to spend some time with my family with food, games and laughter — that should be a good ennui buster.