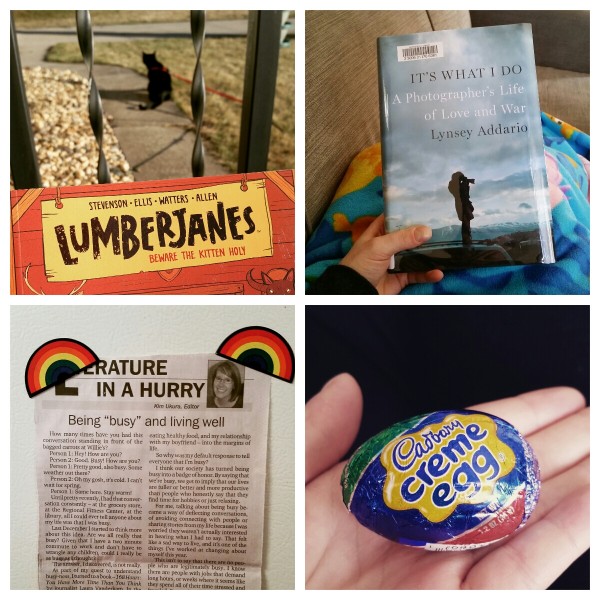 Time and Place | 7:20 a.m. on my couch. I went to sleep really early both nights this weekend, mostly so I could be up early and enjoy the quiet. Quiet weekend mornings are my favorites.
Reading | I didn't get much reading done during the week — I was feeling emotionally strung out — so I made a point to spend as much time as possible with books the last couple of days. I finished Lumberjanes, Vol. 1 (the first trade paperback), then read issues #5 through #8 on Scribd (an ebook subscription service). I also finished a wonderful memoir by war photographer Lynsey Addario, It's What I Do: A Photographer's Life of Love and War, that I can't wait to write about this week. I'm not sure yet what my reading today has in store.
Watching | The boyfriend and I watched 1984 on Saturday night, and we're heading to a friend's house to watch the premier of Game of Thrones tonight on HBO. The Washington Post did a sweet infographic of all the deaths in the tv series so far — check it out!
Cooking | We had beautiful weather this weekend, so the boyfriend pulled out our little grill for steaks Friday and Saturday night (thanks to an Omaha Steaks delivery from his mom). Yum yum yum.
Blogging | This week I asked for book recommendations ahead of a big trip to London I'm taking with my sister this fall, and reviewed a very interesting memoir, Smash Cut by Brad Gooch.
Hating | I finished my last Cadbury Creme Egg of the season yesterday afternoon. They are one of my guilty pleasures.
Loving | Last Sunday, I noticed that my Grandma has one of my recent newspaper columns displayed on her refrigerator. It made me smile.
Sharing | I'm not sure what word to use to introduce this… As you may or may not know, a fellow book blogger has experienced an unimaginable loss. Justin DeChantal, son of Shelia at Book Journey, was killed in a car accident on April 4. I never met Justin, but I know from talking with Shelia and reading her blog that she had close, loving relationships with both of her sons. This story from the Brainerd Dispatch about Justin shares so much about him and his wonderful family.
A couple of bloggers stepped up and helped organize a fund for a bench in Justin's honor at the Brainerd Public Library. It's a small thing, but it felt like exactly the right way to show Shelia the support of her online community. The donations are now closed — bloggers donated more than double what was needed in just a few short days — but please do keep the DeChantal family in your thoughts.