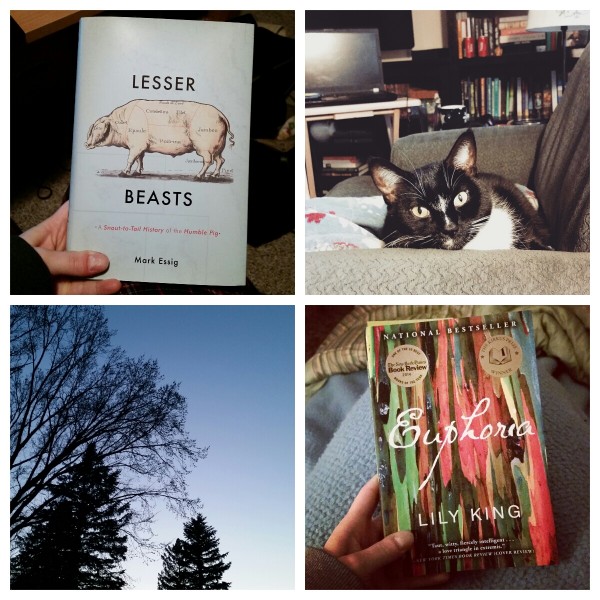 Time and Place | It's about 2 p.m. and I'm sitting in my favorite chair with the windows wide open behind me. It's a beautiful day and I'm a little brain dead so this is going to be short!
Reading | I read a lot yesterday. Thank you, Readathon. I'm not sure how much I will read today, but if I do pick up a book it'll be Lesser Beasts by Mark Essig (May 5 from Basic Books) or The Sixth Extinction by Elizabeth Kolbert.
Watching | My current favorite show is iZombie on The CW. It's delightful. And, for the moment, the actor who played Arthur on Merlin is on the show in a recurring role. He's damn charming. The boyfriend and I are also watching the third season of Orphan Black. Tatiana Maslany continues to be amazing.
Listening | I've got two audio books going at the moment, Missoula by Jon Krakauer and God Help the Child by Toni Morrison.
Blogging | In addition to post about the Readathon yesterday and sharing my potential book stack, I wrote about an awesome memoir — It's What I Do by Lynsey Addario.
Hating | I'm tired of having bad things happen to good people. It's been like six weeks of bad news and I am just over it. Work last week was also pretty stressful, so that's put me in a mood.
Loving | Two things that made me happy this week: Disney songs remixed as 90s slow jams and Obama's anger translator showing up at the White House Correspondent's Dinner.
Avoiding | I need to get my eating habits back in shape… but I just made chocolate chip cookies. So… yeah.
Anticipating | We're supposed to have gorgeous weather this week… maybe even into the 80s by next weekend. I anticipate many long walks and an evening or two eating outside. Joy.
Happy Sunday, everyone! What are you reading today?