This week has been… long. That makes me even more excited that this Saturday is Dewey's 24 Hour Readathon, one of the best book nerd days of the entire year. The weather this week has been kind of gross and Saturday doesn't look much better — perfect for reading.
Like usual, I'll have a post up here on Saturday where I'll collect my updates from the day, primarily my Twitter feed (@kimthedork) and Instagram (kimthedork), using Storify. But enough with the formalities, on to the good stuff.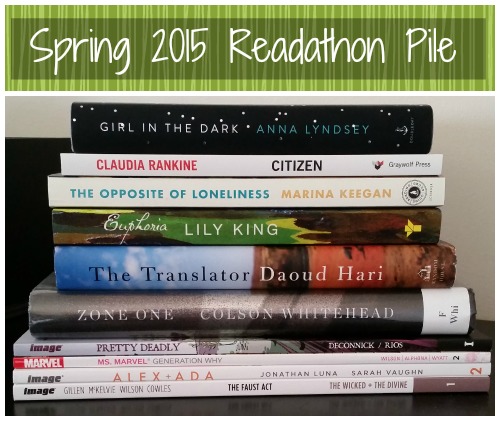 I've been adding and taking books off my Readathon pile for the last two or three weeks, but I think this is pretty settled. I usually try for a good mix of fiction and nonfiction, nothing more than about 250 or 300 pages, along with some comics to finish out the evening.
The two books I'm most excited about are Euphoria by Lily King and Zone One by Colson Whitehead. I've been looking forward to both of them forever! I've also heard great things about Girl in the Dark by Anna Lyndsey, a memoir about a woman with extreme sensitivity to light. The Opposite of Loneliness by Marina Keegan is a mix of short stories and essays, and Citizen by Claudia Rankin is a slim volume of prose/poetry that may or may not be a good Readathon pick. And The Translator by Daoud Hari is another memoir. I just noticed there's no straight nonfiction on this pile… that's an issue I may need to remedy.
Finally, the comics: Pretty Deadly, Vol. 1, Ms. Marvel: Generation Why, Alex + Ada Vol. 1 and The Wicked + The Divine: The Faust Act. I've been looking forward to all of them for awhile now. I also have a couple of audio book options — Missoula by Jon Krakauer and The Checklist Manifesto by Atul Gawande.
My Best Laid Plans
I have a few chores to do around the house and I need to go grocery shopping to get snacks and dinner. Some of my favorite Readathon treats are cheddar rice cakes, lots of fresh fruit, and Totino's Pizza Rolls for dinner. We've got a whole drawer of tea and a few other drink options… so set there.
I'm hoping that I can finish four books during the Readathon as well as one or two volumes of comics. That's a little ambitious — in the fall I finished three books and half of a comic memoir — but it's good to dream big when it comes to a nerdy day of reading.
Other than that, my best advice to fellow readers is to have fun and make an effort to interact with the other participants. Tweet out links to your updates and make sure to visit other readers and cheer them on. If you want people to visit you, you have to make an effort to go find them. That's the only way an event with more than 1,300 readers and around 100 official cheerleaders will work. </rant>
See all of you readers on Saturday!