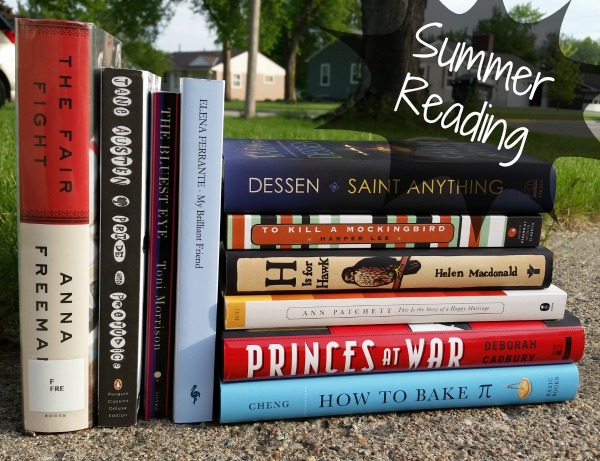 Now that Memorial Day has come and gone, I feel even more like starting to think about summer reading. For me, summer reading means sitting outside, often with an adult beverage of some kind, with books where the pages turn easily and quickly. My limited patience for reading slow books all but disappears when the weather gets nice.
I was going to skip writing up a summer reading list, but then Heather (Capricious Reader) wrote a thing that is basically me exactly:
Is it just me, or is it fun making lists you know you PROBABLY won't stick to? I do this all the time, I love doing this, and I hardly ever do what I intended. At least in the last 10 years of blogging I've learned to not feel guilty about it. Because who the heck has time for that? Ain't nobody got time for that!
Substitute in "seven years" for "10 years" and you've got me exactly. So in the spirit of making reading lists and then completely ignoring them, here are some of the books I'm hoping to read this summer:
Saint Anything by Sarah Dessen — My sister loves Sarah Dessen and said this book, Dessen's newest, might be her favorite. I'm game to give it a try.
My Brilliant Friend by Elena Ferrante — I can't remember how I heard about this one, but I bought it as a book in translation to read and am excited about it because it has frenemies (or not, depending on what you think of that word).
The Bluest Eye by Toni Morrison — Some of the folks at Book Riot are doing a Toni Morrison reading group in June, so I've got this queued up.
Pride and Prejudice by Jane Austen — I've been planning to read this one for at least two years. I will get to it this summer! Unless I don't… that's ok too.
To Kill a Mockingbird by Harper Lee — All the buzz about Harper Lee's "new" novel coming out in July has me itching to revisit this one.
The Fair Fight by Anna Freeman — Victorian lady boxers! Yep, that's perfect for the summer.
H is for Hawk by Helen Macdonald — I've heard nothing but great things about this memoir about death and falconry. It might be too heavy for summer, we'll see.
This Is the Story of a Happy Marriage by Ann Patchett — I've meant to read this essay collection forever. Essays can be nice on warm, lazy afternoons.
Princes at War by Deborah Cadbury — This is one I picked out to read ahead of my trip to London this fall, a look at World War II through the story of George V's sons.
How to Bake Pi by Eugenia Cheng — The subtitle of this one says it all: "An edible exploration of the mathematics of mathematics."
So there you have it, 10 books that I'm hoping I'll make the time to read this summer. But if I don't, that's ok too — I anticipate a wonderful summer anyway. What books are you hoping to read this summer?