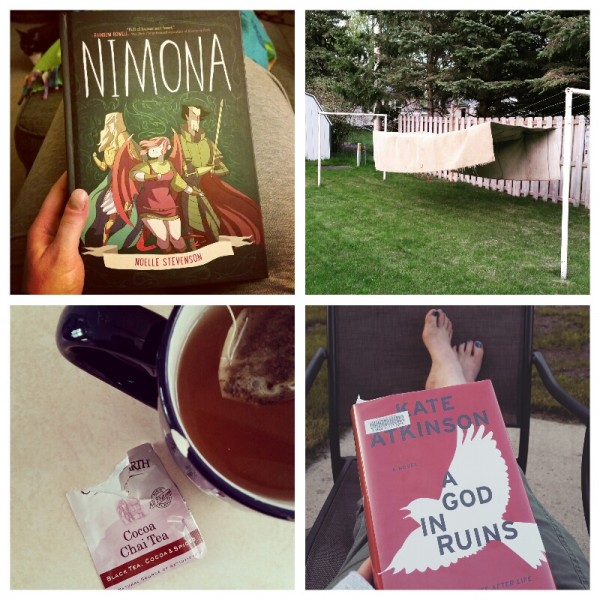 Time and Place | About 8:30 a.m. on my couch in the living room.
Eating and Drinking | Our tea stash has gotten a bit out of control, so I'm trying to make an effort to "drink down" the stuff we've had longest. My best rediscover is a cocoa chai from Good Earth. It smells amazing.
Reading | My brain was pretty well shot this week, so I mostly just read comic books — Nimona by Noelle Stevenson, She-Hulk, Vol. 1: Law and Disorder and She-Hulk, Vol. 2: Disorderly Conduct. I liked this run of She-Hulk, although I didn't love the art in a couple issues and found some others hard to navigate — I wasn't sure which panel to go to next. It was strange. Nimona, a subversive, funny fantasy story was a total delight — highly recommended. When I did finally find the mental space to settle in with a book, I chose A God in Ruins by Kate Atkinson, which I thought was great. I can't wait to read some of her backlist later this summer. Late last night I picked up Thank You for Your Service by David Finkel which I can already tell is going to be important and sad.
Watching | Now that the prime-time television season is over, I'm planning to be watching a lot less. The boyfriend and I are still into Orphan Black, but I'm getting less and less enamored with Game of Thrones.
Listening | I made the mistake of listening to an Andy Grammer playlist my sister put together and now I cannot get the lyrics of "Honey, I'm Good" out of my head. I love it and I hate it.
Decluttering | After I got home from the gym yesterday, I got hit hard with a spring cleaning bug… better late than never I suppose. I didn't go full on Marie Kondo, but did manage to clear out some unneeded clothes, office supplies and toiletries. I still need to do a major book clearing and tackle the closet in my office, but it's progress.
Blogging | Things on the blog were very quiet this week. In addition to our basement flooding problem, I had a busy week at work and some other stressful background noise. I'm hoping to use this long weekend to get ahead on some posts to keep things on track this summer.
Promoting | I'm often skeptical about age or gender-related book lists, but I was impressed with this post about 21 books from the last five years every woman should read. It's diverse in lots of different ways, and has a bunch of books I've heard great things about. So far, I've read 11 of 21 on the list.
Hating | I had to deal with a few jerks this week. I hate that I always want to get the last word because, as I was reminded this week, that never works.
Loving | While I'm a little sad not to be at my parents' cabin this weekend, having three days at home with nothing going on is kind of great.
Avoiding | I'm waaaay behind on blog comments. I am going to get caught up today!
Anticipating | I think the sun is going to come out for a bit this afternoon, which means sitting outside with a book. Happy day!
Happy Sunday, everyone! What are you reading today?