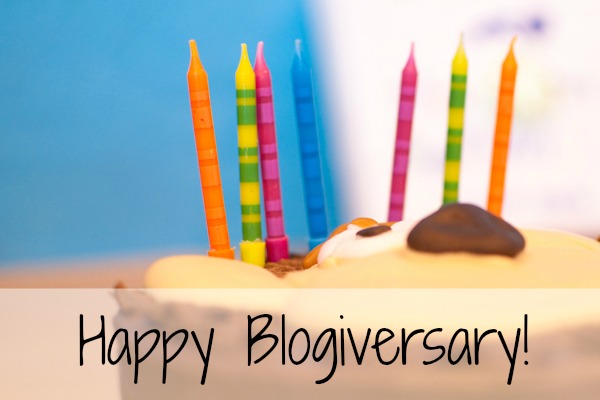 Briefly | Life got the better of me this week, so I decided to take an impromptu spring break from blogging. It was kind of awesome. I'm not sure that I'm entirely recovered from the last few stressful weeks, but today is my seventh blogiversary and I couldn't let that go by without a little celebration.
Reading | Since I started blogging in 2008, I've read 698 books. I don't have all of them listed in a spreadsheet, so I can't break them down by genre, but I pretty consistently read about 60 percent nonfiction and 40 percent fiction. Blogging has helped me expanding my reading horizons into comic books, audio books and young adult fiction.
Listening | Over the last seven years, I've listened to 49 audio books. My audio book listening goes in spurts, often depending on how much driving I have to do. The first audio book I ever listened to was Twilight by Stephenie Meyer, at the recommendation of my sister and my cousin. Didn't see that one coming, did you?
Blogging | In seven years, I've posted 1,348 times (and hit post 1,000 just before my five-year blogiversary). Of those, 473 have been book reviews of some kind. Here are some other blog-related stats:
Promoting | As I was putting together this post, I went back to all of my previous blogiversary posts. I love that they've all been a little bit different: Happy One Year Blogoversary!, My Two Year Blogiversary!, Happy Third Blogiversary to Me!, Happy Fourth Blogiversary to Me!, Thoughts on Blogiversary Number Five, and Six Reasons I'm Grateful for Six Years of Book Blogging.
Loving | Thank you all, so much, for continuing to read what I write here. Finding a community of readers through this blog has been one of the biggest joys of life. I'm getting a teary-eyed just thinking about it.
Wanting | I hope that in the next 365 days of blogging, I can keep finding ways for this blog to bring joy. This space has evolved since my first post went up seven years ago, and I know that it will continue to change. I want those changes to always be for the better.
Anticipating | The year ahead is a big one. I'm excited and nervous and hopeful and so grateful that I have a space to share it. Happy Sunday, everyone!
Photo Credit: Martin Thomas via Flickr Creative Commons.