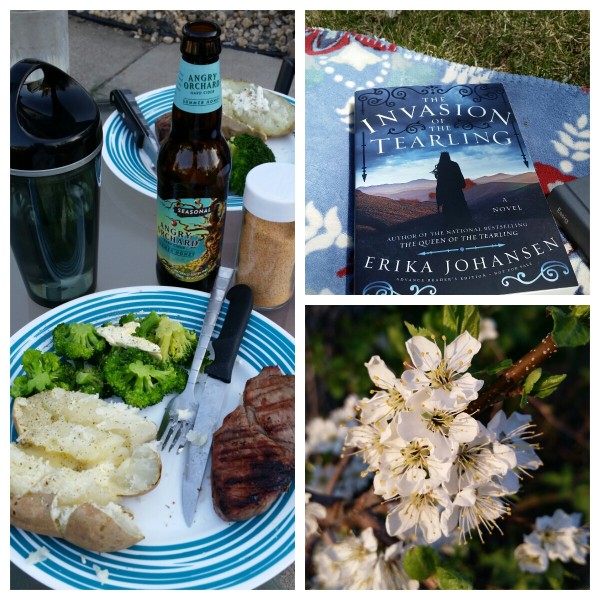 Time and Place | About 9 a.m. on my favorite chair in the living room.
Eating and Drinking | We had our first "official" dinner on the deck on Friday night — steak, potatoes, broccoli and new summer cider. Hooray for beautiful weather.
Reading | I went totally off plan this week thanks to the arrival of an ARC of Invasion of the Tearling by Erika Johansen. This is the second in a planned trilogy (I think) set in a distant future country that's returned to feudal rules and technology. Instead of books I "should" be reading, I reread the first book, Queen of the Tearling, then flew through the second. But I have seriously mixed feelings about them! On the one hand, I love the characters and, to an extent, the story. But I feel like the rules of the world that Johansen set up aren't clear and, when magic is involved, there are no established rules. That makes it hard to settle in, or feel like the plot has any logical place to go… I want to talk about these with people!
Watching | We went to go see Avengers: Age of Ultron last night, and it was awesome! It had everything I love in super hero movies. I loved the way they built out some of the Avengers backstories — Hawkeye, for example, had more dialogue in this movie than in all of the other Marvel movies combined — and that there were lots of jokes. Good job, Joss Whedon.
Listening | I'm still making my way through Missoula by Jon Krakauer. This one is great, but very hard to listen to for a length of time.
Blogging | This week I shared five novels that I'd recommend (and when you should read them), as well as took a look back at my reading in April.
Promoting | I was interviewed about my life as a book blogger by Freya at Freado Blog. You can read all about how I started blogging, my routine as a blogger/editor (not much of one at all), and my biggest book blogging pet peeve.
Hating | April. April was terrible. Good riddance.
Loving | My friend Erin came to visit this weekend, so we've been hanging out and exploring my small town. It's fun to explore a place you know well with someone new, to see it with fresh eyes.
Loving II | This week has just been beautiful, warm and sunny but without the high humidity we can expect when summer arrives. I'm trying to soak it all in as much as possible.
Anticipating | Today Erin and I have a long day of laziness planned. I took tomorrow off work so we can go shopping and exploring in a bigger town about 45 minutes away. Yay.
Happy Sunday, everyone! What are you reading today?