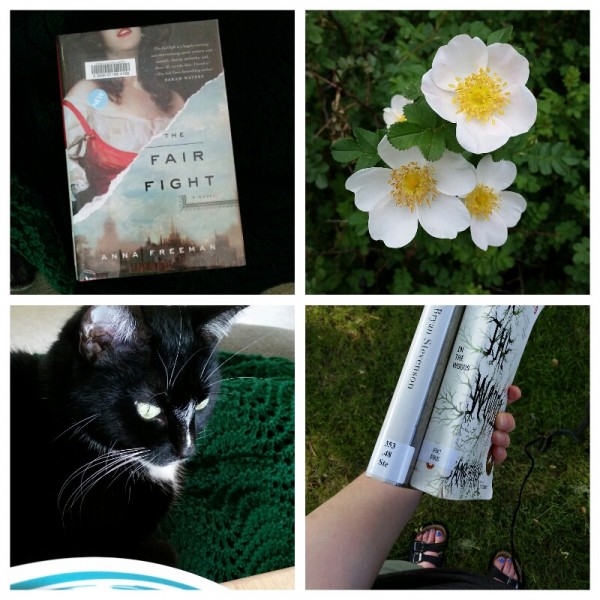 Time and Place | About 7:45 a.m. on, you guessed it, my couch.
Eating and Drinking | The boyfriend ordered some Pom-berry Black Tea that I'm trying out for the first time. It supposed to be a high caffeine blend, which I will need today since I haven't managed to sleep in at all this weekend.
Reading | I spent most of this week with Anna Freeman's The Fair Fight, a historical fiction novel about Victorian lady boxers. I'll have more thoughts in an upcoming fiction reviewlett post, so for now I'll say it was excellent (just a bit too long through the middle). The other book I tore through this week was an egalley of Everything, Everything by Nicola Yoon (Sept. 4 from Delacorte Books). It's about an 18-year-old girl with SCID, a disease that makes her allergic to everything, and what happens when she falls for the boy across the street. It was absolutely stellar, so funny and warm and romantic. I had the same kind of reaction to it as I did to Fangirl by Rainbow Rowell. I can't wait for more people to read it, and thanks to Kelly for the mention that made me pick it up.
Watching | The epic Friends marathon continues. I'm midway through season seven and remain convinced that snarky Ross/Rachel is infinitely better than romantic Ross/Rachel.
Listening | After finishing Missoula, I needed something a little less fraught for an audio book. I picked The Checklist Manifesto by Atul Gawande and, so far, it's been oddly interesting.
Blogging | This week I looked back at my May 2015 reads and shared five great nonfiction books I've read in the last couple of months.
Brainstorming | I'm working on a post for Book Riot of nonfiction by and about lady adventurers. It's been so fun — my TBR list is growing rapidly — but I'm running into a challenge finding books that feature women who aren't white. There are ladies of color doing awesome things — Bessie Coleman, Mae Jamison, Sacagawea to name a few — but all of the books about them I've found so far are kids books. It's kind of infuriating. So, I'm hoping to do a little crowdsourcing from you all for suggestions on books or women to feature.
Hating | The company I work for has a very generous PTO policy, and I'm not very good at taking vacation. Consequently, I reached a point this week where I maxed out the vacation days I can accrue. Argh! On the plus side, I anticipate a few half days of work in the next couple of months until I use up a good chunk of my hours going to Europe!
Loving | My favorite Instagram account right now is @hey_jules_studio. She's doing 100 days of photos of rainbows that are beautiful and precisely organized. They make me smile every time I see one.
Loving II | The library has been good to me lately. I picked up a couple of great books this week, Just Mercy by Bryan Stevenson and In the Woods by Tana French.
Anticipating | At this time next week I will be at the lake! I'm more excited than I can tell you for this long weekend at our cabin family with friends. I've already started packing the essentials — books, games and booze. Yay!
Happy Sunday, everyone. What are you reading today?