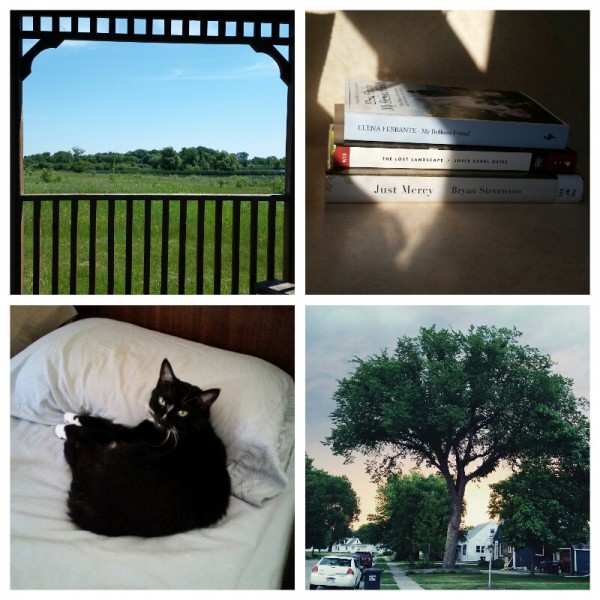 Time and Place | About 9 a.m. on my couch.
Reading | I had a very slow reading week. I'm in this mode where I want to READ ALL THE THINGS which inevitably causes me to not read anything at all. I've been slowing making my way through three books this week, Just Mercy by Bryan Stevenson, The Lost Landscape by Joyce Carol Oates (September from Ecco Books), and My Brilliant Friend by Elena Ferrante. I'm hoping to finish at least one of those today.
Listing | One of the ways I tried to focus is to just make a list of everything that I want to be reading right now. Having it written down seems to settle my brain. Here's the list: Between the World and Me by Ta-Nehisi Coates (egalley), Fates and Furies by Lauren Groff (egalley), Blackout by Sarah Hepola (bought), Written in the Stars by Aisha Saeed (library), Sally Ride: America's First Woman in Space by Lynn Sherr (library), I Am Malala by Malala Yousarzai (bought), and Saint Mazie by Jamie Attenberg (bought).
Watching | We're going to see Spy, Melissa McCarthy's new movie, this afternoon. Nothing like a cool, dark movie theater in the middle of a hot, humid weekend.
Listening | My current audio book is An Ember in the Ashes by Sabaa Tahir, a YA fantasy right in my audio book wheelhouse. The book has a male and a female narrator for the alternating perspective chapters, which I really like.
Blogging | This week I wrote about my current British fiction reading binge and shared 11 true stories of lady adventurers.
Hating | I think my grocery store has stopped carrying my new favorite yogurt, Chobani Almond Coco Loco (coconut yogurt with salted almonds and dark chocolate). This is very distressing!
Loving | I've got a three day work week! Our official company holiday is Friday, and I took Thursday off to see some friends who are vacationing in Minneapolis. After that, we'll be heading to the cabin for another weekend at the lake. I'm excited.
Planning | I've been thinking a lot about how I want to save memories and mementos from the trip my sister and I are taking to Europe this fall (we finally finished booking our accommodations, so the trip is feeling VERY real). This post on ways to preserve memories without scrapbooking caught my attention, as did this one on making a photo book. I'd love to get some ideas from others who are frequent travelers or talented memory keepers, as I am neither of those things.
Plotting | Hannah has started sleeping on my pillow after I get up in the morning which is cute but also gross because, ugh, so much cat hair. A friend suggested putting a cat bed there for her to sleep on, which seems like a logical solution.
Anticipating | I skipped taking a walk yesterday, so I need to get my butt moving this morning. I found a new path to take last weekend, out to this gazebo with a lovely view, so I may head that direction after breakfast.
Happy Sunday, everyone! What are you reading today?