Not reading all month has definitely not stopped me from buying books… you're welcome, publishing industry. Here's a little recap: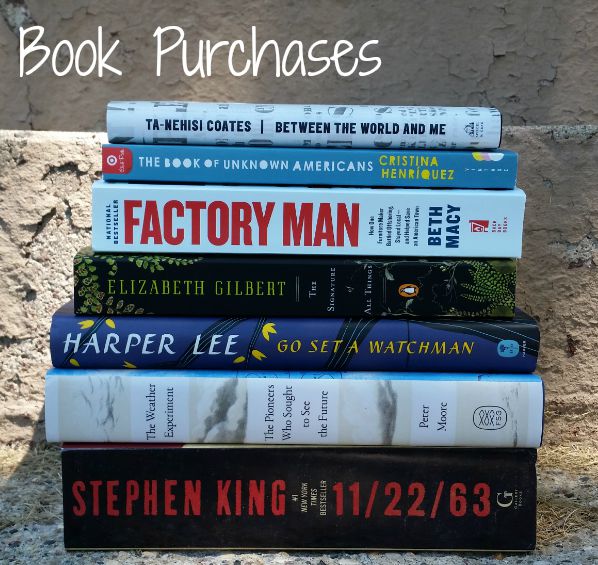 I did a less than stellar job keeping my impulsive book buying to a minimum this month. But July is my birthday month, so I guess I get a pass? Eh, whatever, these all look awesome.
Factory Man by Beth Macy – The true story of a furniture maker who works to keep his business in America despite the economic pressures to do otherwise. Reviews have praised the reporting on this one, so I'm definitely in.
Go Set a Watchman by Harper Lee – I preordered this one after finishing To Kill a Mockingbird and, to be honest, all of the buzz after the release has soured me on reading it. I'll probably shelve it for awhile to come back with fresh eyes.
Between the World and Me by Ta-Nehisi Coates – This is the other big, buzzy book I got this month. I am hoping to jump into it soon.
The Signature of All Things by Elizabeth Gilbert – This book has been on my "books to watch for" list for a long time. It was on the "Summer Reads" table at Barnes and Noble, so I grabbed it!
The Weather Experiment by Peter Moore – This book, about the first pioneers who first tried to understand the weather, was a total impulse buy. I can't even remember where I heard about it!
The Book of Unknown Americans by Christina Henríquez – Another impulse buy, this time from Target where I was walking around and wasting time.
11/22/63 by Stephen King – Sheila (Book Journey) highly recommended this one, so I bought it. I'm only like 25 pages into this chunkster (880 pages!), but so far it's fun.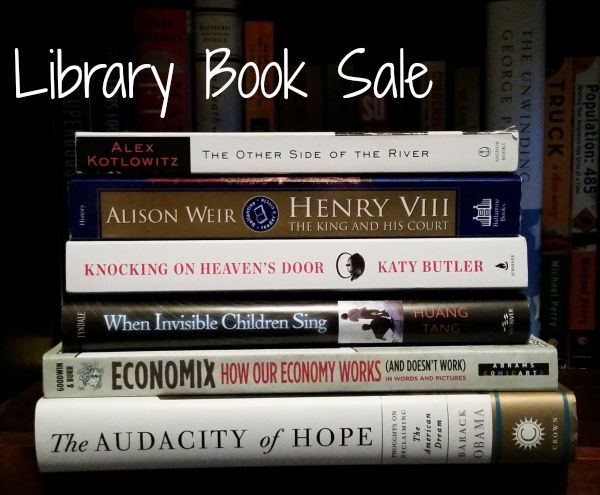 Each July my local library holds its annual book sale. While this year's sale was a little smaller than usual, and I was rushing through on my lunch break because I had to get back to work, but I still managed to snag quite a few interesting looking books.
The Other Side of the River by Alex Kotlowitz – I've been meaning to read Alex Kotlowitz forever. This book is about two towns in southern Michigan, one white and one black, and what these racial divisions mean to each community.
Henry VIII: The King and His Court by Alison Weir – Ever since I finished watching The Tudors, I've been on the lookout for books on the time of Henry VII. Although Wolf Hall is high on my list, I love finding some nonfiction too.
Knocking on Heaven's Door by Katy Butler – I read this one awhile ago and gushed about it, but didn't have my own copy. This was an excellent grab.
When Invisible Children Sing by Huang Tang – A random grab that seemed up my alley, a doctor writing about his work with homeless children in La Paz, Bolivia.
Economix: How Our Economy Works (and Doesn't Work) by Michael Goodwin and Dan E. Burr – I'm totally in for an illustrated book about the economy.
The Audacity of Hope by Barack Obama – Normally I'm not into political memoirs because I don't care about politicians… but I actually like Obama and I'm curious about this one.
Yes, yes, I know I have a book buying problem. There's got to be a word for this, right?
I'm in the middle of the Steven King book, but not sure which of these I should grab next. Maybe Ta-Nehisi Coates? The Alison Weir is calling me too. Or Elizabeth Gilbert. That one just sounds awesome. So many books, so little time!