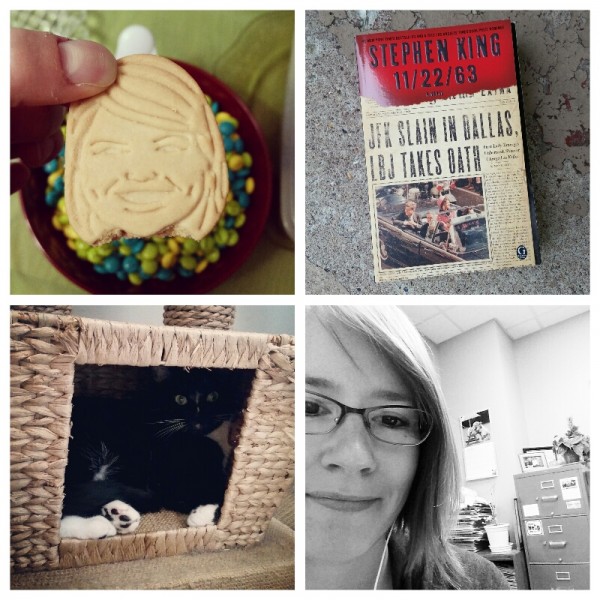 Happy Sunday! When I started my blogging break 17 days ago, I had grand plans to read and relax and try to get my mojo back… this is what I did instead:
1. Watched 25 episodes of White Collar on Netflix. I don't know where I found this much time to watch tv. I also watched many episodes of Suits. While both shows are enjoyable, this wasn't the most rejuvenating activity.
2. Listened to Armada by Ernst Cline while coloring. Listening to audio books while coloring — I bought Splendid Cities by Rosie Goodwin and Alice Chadwick and Secret Garden by Johanna Basford — was the most satisfying discovery of my blogging break. I will definitely be doing this more.
3. Served as sous chef during a ribs cooking contest and took photos at a parade during the hottest weekend of the year. Our annual city festival was a lot of fun, but man, so dang hot. I followed up that working weekend with a day of where, as I recall, I watched a lot of Netflix.
4. Ate cookies shaped like my sister's face. My mom and I hosted a party celebrating my sister getting licensed as an architect in Minnesota. The face cookies were a party highlight.
5. Bought seven (maybe eight? maybe more?) books, and went to our library book sale where I bought six more. I'm planning to show all of them off in more detail in a post later this week, so stay tuned.
6. Hosted a retirement party, complete with margaritas. Losing one of my coworkers to retirement was probably the saddest thing over my entire break. Learning to function without her has been the most challenging thing.
7. Visited Brainerd where I ate breakfast at Perkins with Sheila (Book Journey) and pretended to be abducted by aliens. I was in Brainerd for a work-related training, so I found some time to see Sheila and got to act like a weirdo in a goofy training exercise. It's hard to explain…
8. Read one book. Yep, that's right. In 17 days away from blogging I managed to finish just one book, an egalley of Fates and Furies by Lauren Groff (Sept. 15 from Riverhead). And I really only managed to read that in fits and spurts, 10 to 15 pages at a time. Thank goodness it's really good!
Realizing I'd let reading fall so far down my priority list is one of the reasons I'm jumping back into blogging. Without the accountability of the blog, I end up filling my spare time with activities that simply pass the time rather than activities that rejuvenate me. I absolutely needed the break — the last few weeks have been full and stressful and emotionally charged — but I also missed this space, and all of you, quite a bit. So, with that, I'm getting back to work.
The two books I'm making my way through today are Ghettoside by Jill Leovy (literary journalism about murder and justice in Los Angeles County) and 11/22/63 by Steven King (time travel and the John F. Kennedy assassination, I think — Sheila recommended it, calling the book "King but not cray-cray").
What's the best book you've read in the last couple of weeks? Anything I need to get my hands on right away?