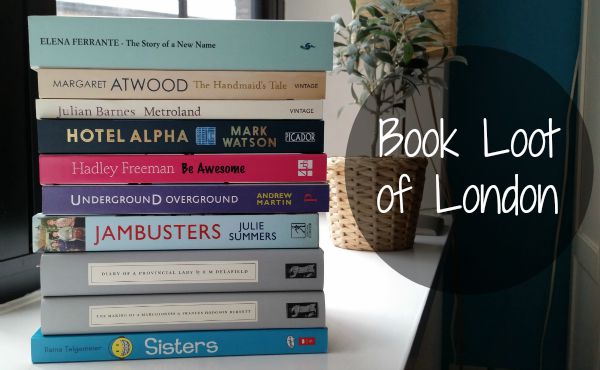 My sister and I have been in London for a week and have been keeping ourselves busy. We've seen most of the major sites, walked all over the place checking out famous buildings, and visited several London bookstores. There's a ton to write about – our visit to Warner Brothers studios for the "Making of Harry Potter" tour will be it's own post – so for now I'm just going to share some of the bookstores we visited.
In an effort to keep my luggage from getting out of control, I tried to follow a couple of rules for bookstore shopping: one book per store and the book had to have some connection to London or the store itself. I didn't quite follow that at every store, but pretty close! Here's where we visited:
Lutyens & Rubinstein
On our first full day, Tuesday, we headed up to walk around Notting Hill before a visit to Kensington Palace. Lutyens & Rubinstein was the first store on my list that we happened to find. It was so cute – really small, but a pretty excellent selection of fiction in the basement. I picked up a copy of The Story of a New Name by Elena Ferrante, the second of her Neapolitan Novels, which was on a staff picks table.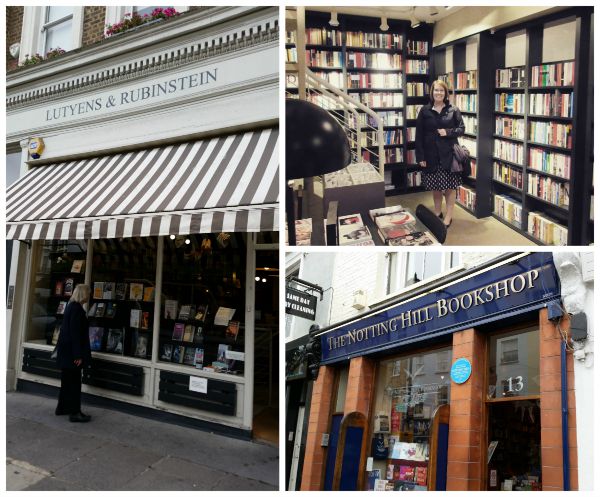 The Notting Hill Bookshop
The Notting Hill Bookshop was another cute and crowded store on a quiet street in Notting Hill. I was a little disappointed I couldn't find many staff picks, so I grabbed a UK copy of The Handmaid's Tale by Margaret Atwood.
Waterstone's (Leadenhall Market)
On Wednesday, after rain cleared up in the late afternoon, we went on a walk through London's financial district to see some famous buildings. We also visited Waterstone's in Leadenhall Market, a really cool indoor shopping area, because I wanted to get a tote bag for carrying around. I also grabbed a book, Hotel Alpha by Mark Watson, one of Waterstone's Book Club picks.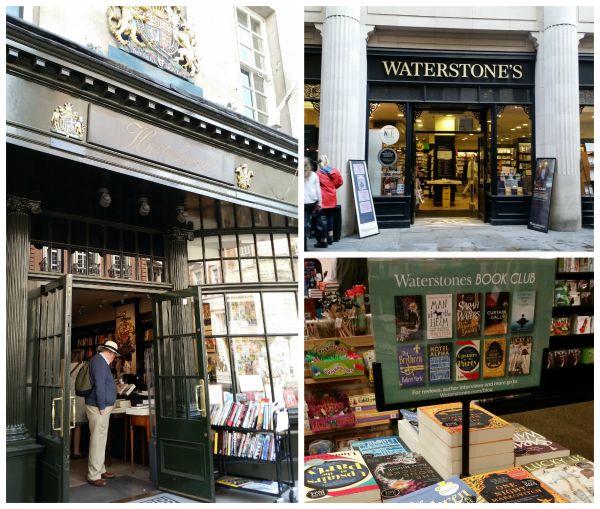 Hatchard's
On Friday we stumbled across Hatchard's, London's oldest bookstore, while walking along Picadilly. I really liked this one – five floors with an emphasis on history and a lot of new fiction. I grabbed one of their staff picks, Metroland by Julian Barnes: "Barnes writes with an extraordinarily accomplished style that successfully combines humor with a coming-of-age storyline." They're in the middle of voting on favorite novels of the last 200 years – the list to choose from is pretty great!
Any Amount of Books
On Saturday, Jackie (Farm Lane Books) came down to London to meet and visit some bookstores – it was so fun to meet a long-time blogging friend in person! Our first store was a used bookstore called Any Amount of Books. It was totally delightful – crowded, tall shelves, mixed up sections. Jenny found me a great-looking book, Jambusters by Julie Summers.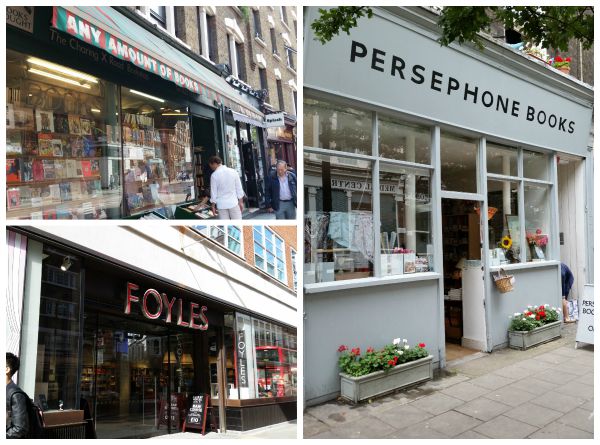 Foyles
Next we headed over to the Foyles flagship store on Charing Cross Road. Wow, was this place beautiful! It's five enormous stories with, apparently, 200,000 titles along four miles of shelves. It was incredible… and I broke the rule there, grabbing two books – Be Awesome: Modern Life for Modern Ladies by Hadley Freeman and Underground Overground by Andrew Martin. The Freeman book was a staff recommendation: "This collection of essays by one of the Guardian's wittiest columnists had me 'LOL-ing' throughout. Be Awesome is like chatting to a friend, it's warm and funny and points out all the things you already know." The Underground book was an impulse buy because I am obsessed with the Underground. 
Persephone Books
After a traditional lunch of fish and chips, we hiked over to Persephone Books, a publisher and bookseller. Persephone Books reprints "neglected fiction and nonfiction my mid-twentieth century (mostly) women writers." I picked up two titles, Diary of a Provincial Lady by E.M. Delafield and The Making of a Marchioness by Frances Hodgson Burnett. The store is just beautiful – and so fun to see all the matching titles stacked up together.
Forbidden Planet
Yesterday we made a quick stop at Forbidden Planet, a "cult entertainment megastore" with books, memorabilia and comics. It was really crowded and we were both pretty tired, so we didn't browse much. I bought Sisters by Raina Telgemeier because the description is about two sisters on a three week trip – so accurate.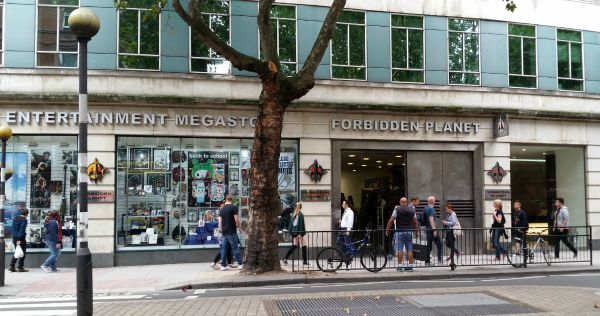 Flourish & Blotts
And I couldn't, in good conscience, end this post without a shout out to the most exciting bookstore of the entire trip, Flourish & Blotts in Diagon Alley! This was part of our Harry Potter studio tour – more later, I promise – that was just too delightful for words.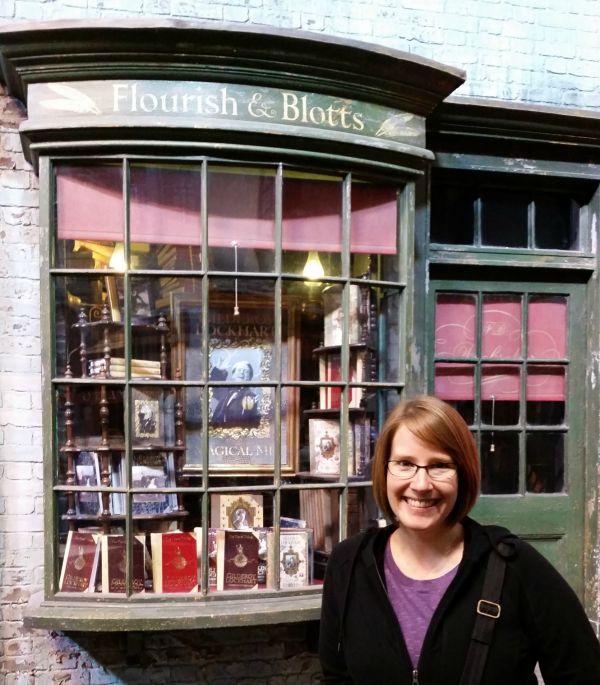 So there you have it, nine bookstores in seven days! At the moment, all of the books are piled in my suitcase for travel to Bath tomorrow. I think we'll end up at a post office to ship some home before we head out to Greece at the end of the week. If you want to follow our adventures I suggest following me on Instagram. And I'm hoping to do a few posts on other and highlights when we get back in mid-September.