There are lots of narratives that make us feel comfortable, that reinforce the way the world works or tell us that institutions work the way they're designed to work. While there's nothing wrong with reading those comfortable stories – in fiction or nonfiction – I also like finding books that challenge my worldview in important ways.
In this post I wanted to write about two books – one that pushes readers to acknowledge uncomfortable narratives, and another that relies on a comfortable story in service of an uncomfortable argument.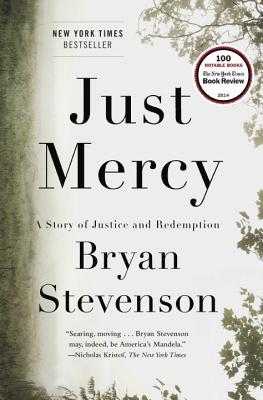 The first book, one of the best I'm going to read this year, is Just Mercy by Bryan Stevenson.
As a young lawyer, Stevenson helped found the Equal Justice Initiative, an organization focused on providing legal support for those who need it most. Based in Monroeville, Alabama (hometown of Harper Lee, setting of To Kill a Mockingbird), many of EJI's early cases focused on people wrongly placed on the death penalty. The book focuses strongly one of of those cases, a man named Walter McMillian wrongly accused of murder. As Stevenson shares the long, difficult journey to get Walter off of death row, he also writes movingly about cases that were not successful and about the biases and unfairness inherent in our criminal justice system.
Stevenson is a clear, persuasive, honest writer – this book really is a must read for anyone interested in issues of race, justice and the death penalty. There were several instances in this book where Stevenson moved me to tears with his stories. It's uncomfortable to acknowledge that a system – and some of the people we task with making it fair and just – can protect people like me while truly hurting others who are not so fortunate. And the system is set up to make correcting those wrongs extremely difficult, if not impossible, without the help of organizations like EJI.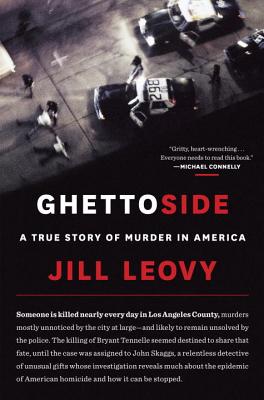 The second book I want to talk about is one that gave me more complicated feelings, Ghettoside by Jill Leovy.
The book opens with this fact: black men compose about 6 percent of our population, but are victims in almost 40 percent of homicides. In digging down to find the story behind that statistic, Leovy sets up a premise that seems contradictory to some of what Stevenson suggests. She argues that when "the criminal justice system fails to respond vigorously to violent injury and death, homicide becomes endemic."
In addition to being overly prosecuted for minor crimes, black men in Los Angeles are further punished by the system because the system doesn't work hard enough to solve their murders and prosecute their killers. That's an intriguing premise that, on the whole, I think Leovy successfully manages to support. And Ghettoside is a truly engaging read – the reporting that went into this book is incredible, and Leovy is a gifted storyteller.
But I also worry that the story is engaging because it centers on a narrative that's comfortable – heroic detectives with above average talent who work harder than everyone else to solve cases. The case of the story is the murder of a young black man who also happens to be a police officer's son. He's unquestionably a good kid and, by virtue of his family, a person whose murder is going to be investigated to the full extent possible. Leovy uses the case to show what it takes to solve "ghettoside" murders that many consider unsolvable, but on the whole it's a fairly traditional, comfortable, true crime narrative.
The uncomfortable narrative – the reasons other police officers don't take ghettoside murders seriously and the biases they bring to policing neighborhoods – feels glossed over. Instead of interrogating deeply the reasons that policing as a whole isn't done well, Leovy seems to give a lot of the officers and detectives a pass while holding up the work of a few. That's not the full story, and not the story that is going to make readers think more deeply. I liked reading the book, but I didn't feel challenged by where it ultimately went.
If you're curious for more thoughts on Ghettoside, I highly encourage you to check out this post from Shannon at River City Reading. She looks Ghettoside in relation to another big book on race and justice, Between the World and Me by Ta-Nehisi Coates, pulling out some similar problematic aspects of how the narrative is structured. The comments are particularly great as well, so make sure you head over there.
Whew, that post got long and was probably a little rambly. I'd love to hear your thoughts on comfortable versus uncomfortable narratives, and about books you've read that challenge ideas about race and justice.