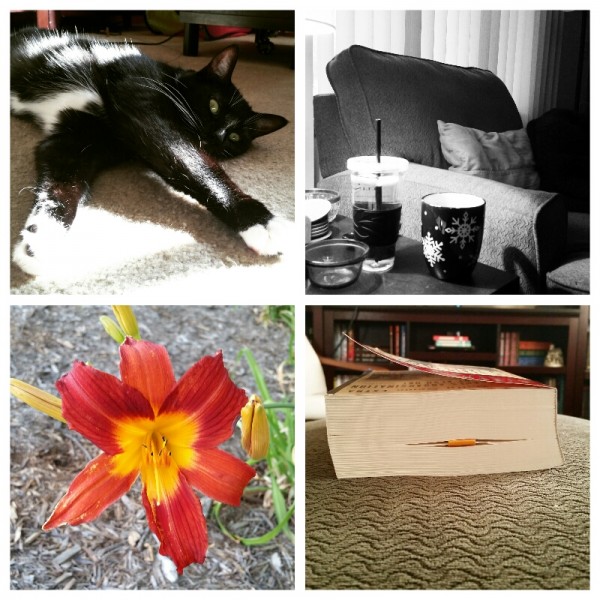 Time and Place | It's just about 8:30 a.m. and I'm sitting in my favorite chair, windows open so I can hear the rain outside. It's supposed to be by storming on and off most of the day, which I'm taking as an excuse to just stay inside.
Eating and Drinking | Basic black tea and a yogurt. I work up this morning feeling sick-ish with a headache, so I'm exercising some caution. I've been feeling off most of the week though. I blame work stress and the humidity.
Reading | I'm making progress with 11/22/63 by Stephen King — I passed the 600 pages mark just before I went to bed last night! I also started a new comics series, Shutter, thanks to this recommendation post from Panels. It's delightfully weird — if a tad confusing through the first volume — and definitely has the same vibe as one of my favorite series, Saga.
Watching | Yesterday, the boyfriend and I finally sat down and watched Jon Stewart's final episode of The Daily Show. I followed that up with the final episode of Friends, ending my epic 10-season binge watch. What's next?
Listening | Spotify has a new feature for finding new music, Discover Weekly, which sounds sort of like a custom mix tape based on what other songs and playlists you're listening to. My mix today is so eclectic, I just love it.
Blogging | It's been a good week on the blog. I shared my reading recap from June and July, followed by some thoughts on comfortable and uncomfortable narratives inspired by Just Mercy and Ghettoside.
Promoting | This New York Times piece on what happens when people are released from prison is great.
Hating | For my birthday, the boyfriend agreed to do the dishes for a month. My month reprieve from chores ended yesterday… which is a bummer!
Loving | Jenny and I leave for our trip in 14 days! Also, ice cream. Dairy Queen has a mini Rolos blizzard that's pretty awesome.
Avoiding | I have a lot of work to get done at work before I can head out of the country. I went into the office for a couple hours yesterday afternoon to get some writing done and I probably should go in today but… it's raining and I'm tired.
Wanting | I could use a break in the humidity. It's been brutal the last couple days, despite some thunderstorms that should have helped things cool off. Our county fair is this week and boy, would I love it if the temperatures were reasonable.
Anticipating | We're leaving for London in 14 days! There are things I should be anticipating before that but, let's be real, that's all I can think about at the moment.
Happy Sunday everyone! What are you reading today?