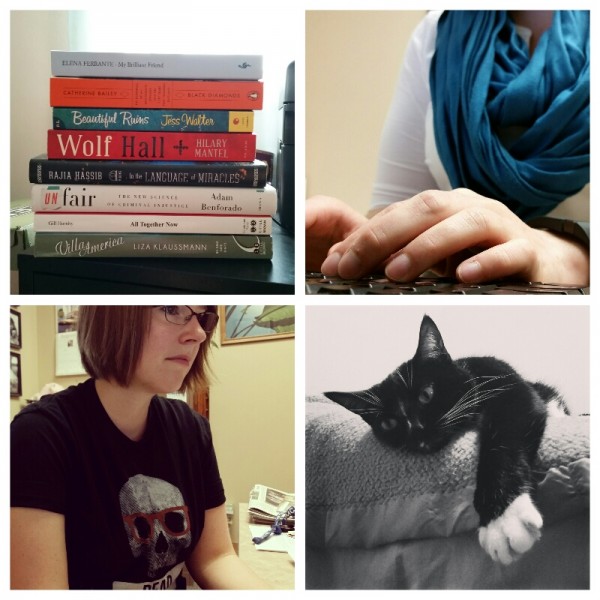 Briefly | I AM LEAVING ON VACATION TODAY! Have I mentioned this trip before? Ha! Anyway, my sister and I are leaving tonight for a three week trip that will take us to England and Greece. It feels totally surreal, but I could not be more excited. Those photos all look a little depressing, but they're accurate — it was a really long week to get here.
Eating and Drinking | At the moment, nothing, but we're heading out soon to spend some time with our grandmas and have lunch at Olive Garden. I'm in the mood to stuff my face with pasta.
Reading | The only thing I could put in my brain this week was comics, so that's what I did, finishing up volumes two and three of Alex + Ada by Jonathan Luna and Sarah Vaughn. It's only a 15 issue series packaged in three trades, so definitely easy to pick up. I thought it was a really charming, heartfelt love story. If I'm not too tired, my two possible plane reads are Wolf Hall by Hilary Mantel and Black Diamonds by Catherine Bailey (nonfiction, about the lost history of the aristocratic Fitzwilliam family). I love rich people drama.
Packing | Speaking of books, I suppose people who saw this Instagram post might be wondering which books made the cut into my suitcase. In addition to Wolf Hall and Black Diamonds I also brought Beautiful Ruins by Jess Walters and My Brilliant Friend by Elena Ferrante. That still feels like too many books — I know I'm going to buy a bunch — but I couldn't pick.
Watching | Since I wasn't reading, I did a lot of watching — mostly finishing up a mediocre SyFy series, Alphas, mixed with a goofy Comedy Central show, Another Period. I really like that one, it's kind of Downtown Abbey meets Inside Amy Schumer (feminist and crass, following the shenanigans of a rich family, available on Hulu).
Listening | I've got a couple of audio books queued up for the trip, What If? by Randall Monroe and Cinder by Marissa Meyer. Those represent my two audio weaknesses, quirky nonfiction and young adult dystopian drama.
Blogging | This week I shared some of my favorite resources for finding good nonfiction. Definitely check out the comments on that one — there were some great suggestions.
Hating | Normally I'm a really good sleeper — trust me, I know how lucky I am in that respect — but between anxiety, stress and excitement, I slept terrible most of the week. That made me particularly emotional and short-tempered, especially with the boyfriend, which I'm sorry about.
Loving | Speaking of the boyfriend, he deserves a special shout out. He's holding down the home front while I'm away, didn't make me feel bad (at all) about going on a huge trip without him, and was super supportive while I was losing my mind and working a ton the last few weeks. This will be the longest we'll have gone without seeing each other since we started dating almost seven years ago so… yeah. I'll miss him.
Loving II | Book Riot's new Read or Die t-shirt might be my favorite thing ever.
Anticipating | London! Bath! Athens! Poros! A little over 12 hours from now I'll be on a plane and heading out. I don't anticipate blogging much, so if you want to follow our adventures I suggest following me on Instagram. I'm hoping to post regularly there and of course I'll share some highlights in a post when I get back. Bon voyage!