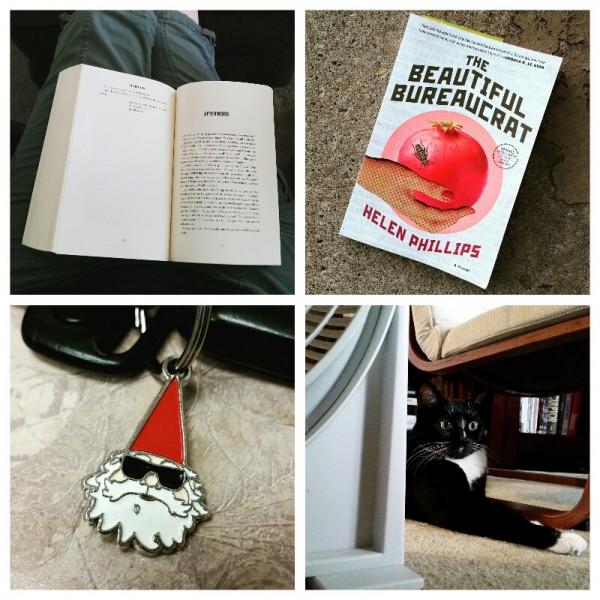 Briefly | One week until we leave for London! There's more going on than that, but that's about all I can focus on right now.
Time and Place | 8:15ish on my couch, thinking about breakfast and getting on with my day — I have to head up to our county fair this morning to take photos at a few events.
Eating and Drinking | Breakfast will include black tea, hard boiled eggs, a nectarine and some homegrown carrots (thanks, coworker with a garden!).
Reading | I finished 11/22/63 by Stephen King last Sunday afternoon, yay! I really enjoyed it — definitely a book that gives you a sense of King's style without being too, well, Stephen King.
Since then I've had a hard time settling in with anything that requires a ton of attention. I did finish up Thor, Vol. 1: Goddess of Thunder by Jason Aaron and Russell Dauterman (fun but not my favorite comic ever) and The Beautiful Bureaucrat by Helen Phillips. I liked this one a lot, even if I'm not sure that I totally understood what happened. It was sort of like if The Yellow Wallpaper meets The Trial, except more fun.
I'm not sure what I'll try to read today, if anything. I've been carrying around both In the Language of Miracles by Rajia Hassib and Where Everybody Looks Like Me by Ron Stodghill (Sept. 22 from Harper), but haven't gotten far with either.
Watching | The boyfriend and I went to see Trainwreck, the new Amy Schumer/Judd Apatow movie, last night. We both agreed it was very funny, and had a particularly great performance from, of all people, LeBron James.
Blogging | This week I shared my responses to a reading habits survey I borrowed from other bloggers. I hope you'll take it yourself and share responses — I think these are always a lot of fun.
Promoting | I don't share a lot of writing from my day job here, but I wrote a piece this week that I'm proud of — a look at a new specialized court process, drug court, that is helping people with serious addictions. It's changing lives in our community, and I'm really grateful for the people who shared their stories with me so I could write this piece.
Hating | My Secret Agent Gnome keychain broke! I don't know where his body ended up, which is a bummer. Sorry, old friend.
Loving | In a week I'm going on a much needed vacation! For three weeks! I can't quite believe it yet.
Avoiding | I haven't started seriously packing, so I need to get on that pretty soon. It's kind of overwhelming to think about everything I need to bring to be away from home that long.
Wanting | I'm hoping the humidity will take it down a notch today since I am going to be at the fair most of the early afternoon.
Anticipating | In a week I'm going on a much needed vacation! For three weeks! I can't quite believe it yet!
Happy Sunday, everyone! What are you reading today?