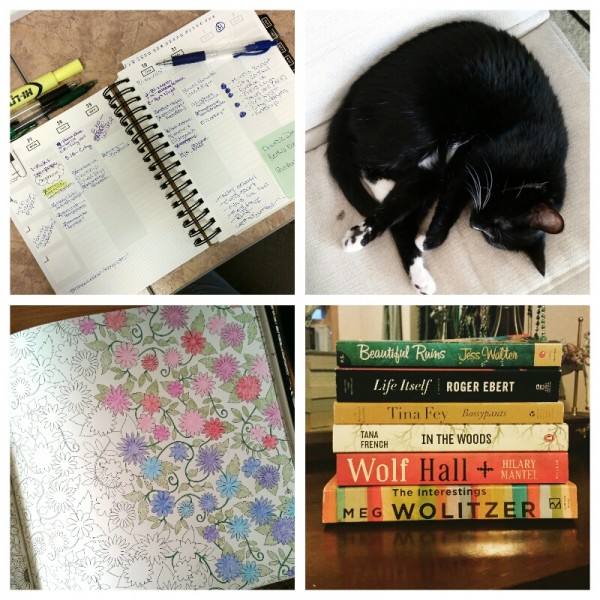 Briefly | I took a quick trip down to the Twin Cities with a friend so I could get a long list of London/Greece trip related items finished/purchased — 21 days to go! It was nice to just spend a day away, since now I still have , and still a full Sunday to catch up on chores and relax.
Reading | I finally finished a book! I got a bit of my reading mojo back last week and finished Ghettoside by Jill Leovy, a look at the high murder rate of black men, specifically in Los Angeles County, and what that means for the broader criminal justice system. She makes a compelling argument about how the criminal justice system devalues the lives of black men by not investing time and resources into investigating their murders. It's a great companion read to another excellent book I read last month, Just Mercy by Bryan Stevenson. I'm also still working through 11/22/63 by Steven King — I expect that'll be a common sentence over the next month!
Watching | Last week we went to see Inside Out (so lovely) and, I think, we're going to see Ant Man later today. I've heard it's pretty funny, so fingers crossed on that.
Listening | Last night I finished An Ember in the Ashes by Sabba Tahir, a young adult (maybe new adult?) fantasy about a slave and a soldier in an oppressive, military regime. There's a hint of magic and some romance, but neither are central to the story. It ended in a pretty enormous cliffhanger, so I'm glad there's going to be a sequel.
Cooking | I've got all the supplies to make a new slow cooker recipe, Mexican Black Beans and Pork. It's pretty similar to this recipe. I better get started on it soon since it needs 8 to 9 hours.
Blogging | Last week I wrote about my new obsession, coloring and audio books and shared all the books I bought in July. This week I'm thinking about a June and July reading wrap up and a discussion of Just Mercy and Ghettoside. We'll see what I get done today!
Buying | I dropped off three big bags of books at Half Price Books and came out with a small stack, a couple I'd read and four more I'm excited about. Wolf Hall is going to be my plane read for our trip, and I'm thinking about bringing along Beautiful Ruins for a beach read in Greece.
Loving | I bought a new planner, the Get to Work Book from Elisa Blaha Cripe. I've been using it exclusively at work and, so far, it's exactly what I need — a place to focus on remembering and completing short and long-term tasks. I can share more about that in another post if people are interested?
Anticipating | My sister and I leave for London in 21 days! I'm actually thinking of it more in terms of newspapers — I have three editions to go, plus work to get done for the three weeks I'll be gone. That makes it tangible. I suspect I'll be anticipating this one for the rest of the month!
Happy Sunday, everyone! What are you reading today?