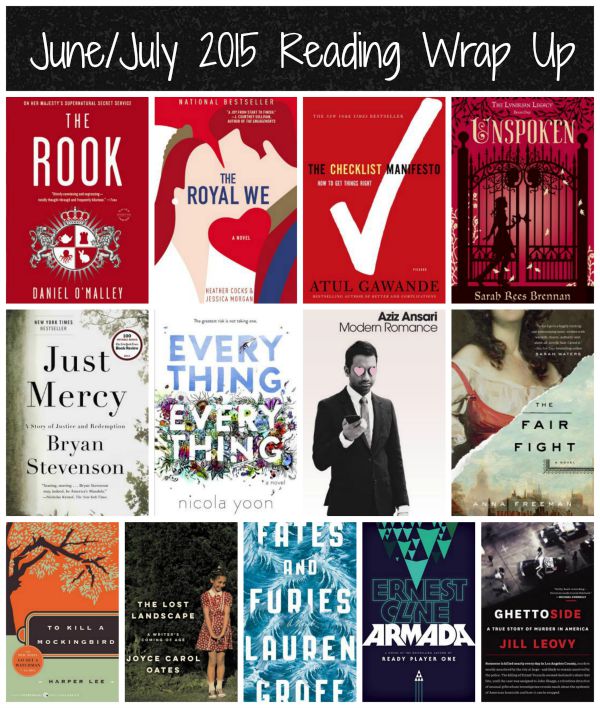 June was My Month of British Fiction. July was The Month I Didn't Read or Blog. As a result, I never posted a June wrap up and my July wrap up was turning out to be pretty boring. So I'm going to just squeeze them together and go from there. Here's what I read in June:
Yoon, Nicola: Everything, Everything (YA fiction — Sept. 1 from Delacorte Books)
Freeman, Anna: The Fair Fight (fiction)
Gawande, Atul: The Checklist Manifesto (nonfiction, audio book)
Cocks, Heather and Morgan, Jessica: The Royal We (fiction)
Ansari, Aziz: Modern Romance (nonfiction, audio book)
O'Malley, Daniel: The Rook (fiction)
Brennan, Sarah Rees: Unspoken (YA fiction)
Oates, Joyce Carol: The Lost Landscape (memoir)
Stevenson, Bryan: Just Mercy (nonfiction)
Nine books in June certainly isn't anything to sneeze at, although I do wish I'd gotten to a little more nonfiction and a comic book or two as well. But c'est la vie, it is what it is.
And here's what I read in July:
Lee, Harper: To Kill a Mockingbird (fiction)
Cline, Ernest: Armada (fiction, audio book)
Groff, Lauren: Fates and Furies (fiction – Sept. 15 from Riverhead)
Leovy, Jill: Ghettoside (nonfiction)
Only four books! That's so weird. But July was also a crazy challenging month for me in some personal ways, so I can see why reading took a back seat.
My favorite fiction book over the last two months was probably Everything, Everything by Nicola Yoon a wonderful young adult novel about a girl who isn't allowed to leave her home as a result of severe allergies. When a boy moves in across the street, Maddie discovers that there's value and even joy in taking risks. While the book isn't obviously like Fangirl by Rainbow Rowell, Maddie and Olly's story gave me the same kind of swoony feelings I felt for Cath and Levi. It was just delightful.
Fates and Furies was also pretty excellent, but in a different way. Groff is such a spectacular writer, and this portrait of a marriage is sharp and, in a lot of ways, unexpected. I won't say more for fear of spoilers, but know that this is a book I can see myself picking up to reread when it comes out next month.
A Look to August
I have basically no reading plans for the month of August. Between getting ready to leave on a three week trip to London and Greece, then being on the trip, I just don't know what I'll be in the mood to read. I guess I do plan to pack Wolf Hall by Hilary Mantel to read on the plane on the way over, but other than that I'll probably bring whatever is grabbing my attention at the time. You can expect a "Books in My Carry On" post, and lots of Instagram photos of the bookstores of London, later this month.
What books are you most excited to read in August?