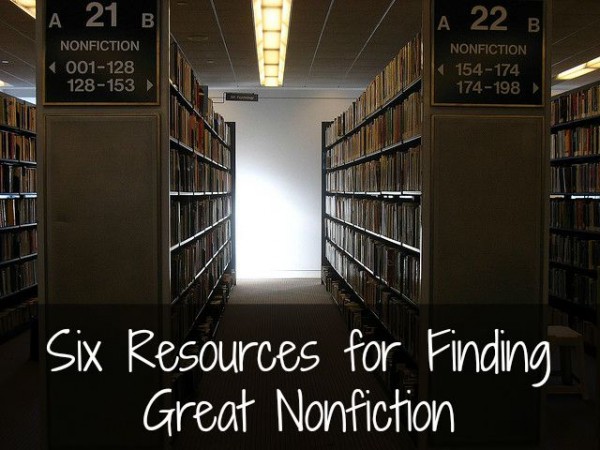 It's no secret that I love to make book lists… sometimes even more than I love reading books on those book lists. Today I wanted to share some of the places I go to get ideas for my book lists as as well as where I look for recommendations for new, excellent nonfiction. None of these are foolproof, but they definitely can provide some ideas for books to look into further.
Pulitzer Prize and National Book Award finalists
Book awards lists can be pretty hit and miss, but over the years I've discovered a couple of award categories that reliably select books that are in my wheelhouse. One is the Pulitzer Prize General Nonfiction list, which tends to award books with excellent reporting and strong writing. The National Book Award also, generally, has an interesting shortlist for nonfiction. I'm sure there are others, but these are the two I tend to gravitate towards most.
New Nonfiction from Citizen Reader
In February, Sarah at Citizen Reader started a weekly series called New Nonfiction where she lists upcoming titles with brief commentary on each one. Since I'm not always up on what is coming out right now, this list is often a good reminder of books I had on my radar or books I want to look into further.
Real Stories series from ABC-CLIO
Another resource that Sarah helped turn me on to is the Real Stories series. This is a series of reference books designed primarily for librarian's doing reader's advisory that offer a wealth of nonfiction suggestions based on reading tastes. There are offerings in Women's Nonfiction, Investigative Writing, Biographies, Memoirs, Travel, and Food Lit. I've used Going Places, the book in the series on travel writing, quite a bit in my nonfiction research. These are a little more difficult to find (and probably too expensive for a personal collection), but might be available at your local library if you don't mind quizzing a librarian.
New Books! from Book Riot
New Books! is a weekly newsletter of book recommendations curated by Liberty Hardy. Liberty reads a ton — reading truly is her super power — so there are always a variety of books to check out (both fiction and nonfiction). Liberty and Rebecca Joines Schinsky also host a weekly podcast on new books — All the Books! — but I haven't listened to it much yet.
Specific Publishing Houses and Imprints
There are also some publishing houses and imprints — departments with a specific mission of focus — that I look at for great nonfiction. Some of my favorites that do almost exclusively nonfiction are part of the Perseus Books Group: Basic Books, PublicAffairs and Nation Books. Graywolf Press, a Minnesota publisher, does an annual Nonfiction Prize — I've loved many of the past winners. Other publishers that I've seen great, readable nonfiction from include Harper, Picador, Riverhead and Spiegel and Grau. But those are huge houses. If you find a book that really speaks to you, check the publisher and then visit their backlist — you'll likely find similar books worth checking out.
Books About Books
I'm a sucker for books about books. I love reading them, and I love gathering potential new books to read from their recommendations. A couple that I've been getting ideas from recently are Read This! Handpicked Favorites from America's Indie Bookstores and (more specifically for nonfiction) The Mother of All Book Lists by William Patrick Martin. My local librarian pointed this one out to me because she knows I love nonfiction — I love that it includes recommendations for all ages.
What are some of your favorite resources for finding new books, specifically new nonfiction?