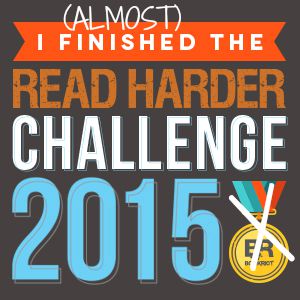 I'm almost done with the Read Harder Challenge! End-ish of September seems like as good a time as any to check in on how I'm doing on this challenge I didn't think I'd actually be able to finish.
Since I first wrote about Read Harder in May, when I'd finished 12 of 24 tasks, I've managed to cross off several more. Here are my additions since then:
A sci-fi novel — 11/22/63 by Stephen King
A romance novel — The Royal We by Heather Cocks and Jessica Morgan
A National Book Award, Man Booker Prize or Pulitzer Prize winner from the last decade — Wolf Hall by Hilary Mantel
A book that is a retelling of a classic story — Northanger Abbey by Val McDermid
An audiobook — Missoula by Jon Krakauer
A book that someone else has recommended to you — The Red Pyramid by Rick Riordan
A book that was originally published in another language — My Brilliant Friend by Elena Ferrante
This leaves me with five tasks to complete in the next three months:
A book written by someone when they were under the age of 25

A book written by someone when they were over the age of 65

A book that is by or about someone from an indigenous culture

A collection of poetry

A book published before 1850
I've got lots of recommendations for finishing up these five books, but I'm planning to continue this challenge the way I've been doing it all year — checking off books when the mood strikes and seeing if I can "win" this one without "forcing" myself to pick up a book I'm not interested in. Yes, I totally know how silly that sentence sounded. I'm off to read a book.
P.S. If you've been participating in the Read Harder challenge, make sure to check out this post where you can get a prize for completing all the tasks. And if you're struggling to find reads for the last few tasks, the Read Harder Goodreads group is a great resource.