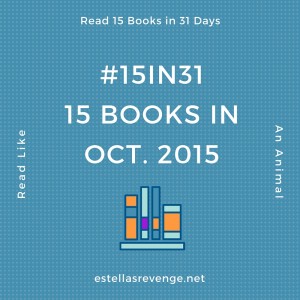 On Monday, Andi (Estella's Revenge) put out a little reading challenge for October: 15 books in 31 days. In her post, Andi said she felt like she needed a little push to "dig into some reading with a vigor." And, like she said in the closing comment of her post, "No pressure. If we do it, we do. If we don't, at least we read some stuff!"
I love this, and so I am taking up the call — 15 books in October! Unfortunately, I'm not going to participate in Dewey's 24-Hour Readathon on Oct. 17 (sob!), but I think I can make some good reading time over the other weekends this month and get to at least 10 books before the calendar changes to October.
And of course, this gives me an excuse to make a fall reading list! Here's what I'd love to be able to pick up and get through: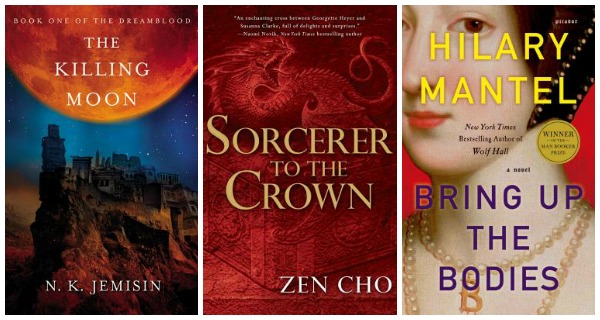 The Killing Moon by N.K. Jemison — I miss reading fantasy and Jemison is an author who has been getting some good buzz lately.
Sorcerer to the Crown by Zen Cho — Same reason as above! Lots of bookish friends have raved about this one and it sounds so fun.
Bring Up the Bodies by Hilary Mantel — I didn't adore Wolf Hall, but I'm still in enough of a Tudor mood that I want to grab this second in a trilogy.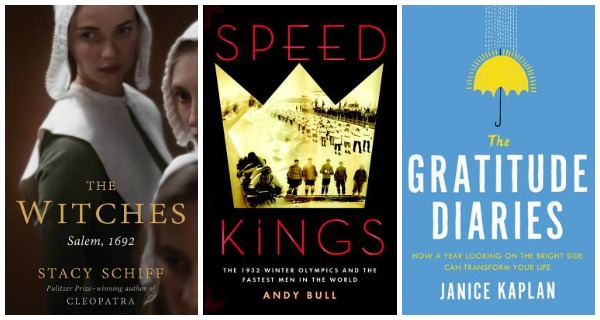 The Witches by Stacy Schiff — A book about the Salem witch trials in October. Yep, yep, yep.
Speed Kings by Andy Bull — I am looking for a book to scratch the same reading itch as The Boys in the Boat and I think this might be it: Olympic bobsledding in the 1930s!
The Gratitude Diaries by Janice Kaplan — This is a memoir about a woman who spends a year living more gratefully, which claims to have a good mix of personal experience and research. I'm intrigued.
Those are all a bit on the long side, so definitely going to throw in some comics (maybe Saga Vol. 5 by Brian Vaughan and Fiona Staples) and some audio books (Scarlet by Marissa Meyer).  We'll see though, definitely just going to go where my reading takes me.
What books are you excited about for October?