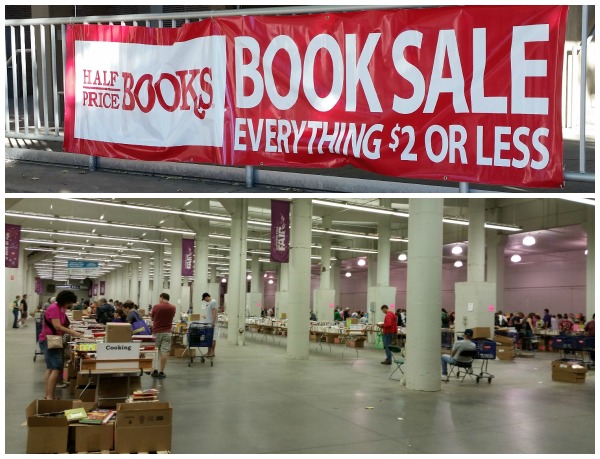 Oh, book sales. How do I love thee? Let me count the ways.
My sister and I stumbled across Half Price Books' annual clearance sale two years ago while we were driving around the Twin Cities. Even though I was going to be in town for it this year, we had planned to skip it since we just got back from buying all the books in London… but like true book nerds, we couldn't stay away.
All seven of Half Price Books' shops in the Twin Cities area contribute to the sale, housed in the Grandstand at the Minnesota State Fairgrounds. It's sort of incredible to walk in and just see tables and tables and tables covered with books. You just have to pick and table and start browsing (while avoiding the people pushing carts down every row).
Initially, I felt like the selection wasn't a strong as two years ago — the fiction seemed really picked over and I wasn't seeing much that caught my attention. But as we made our way to the inner rows, it definitely improved. Of course I ended up walking out with my Penguin tote bag filled to the brim with new books.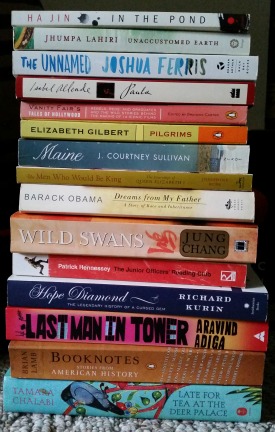 Here's what made it's way into my house from the sale:
In the Pond by Ha Jin (fiction)
Unaccustomed Earth by Jhumpa Lahiri (short stories)
The Unnamed by Joshua Ferris (fiction)
Paula by Isabel Allende (memoir)
Vanity Fair's Tales of Hollywood, edited by Graydon Carter (nonfiction — the stories behind 13 iconic movies)
Pilgrims by Elizabeth Gilbert (short stories)
Maine by J. Courtney Sullivan (fiction)
The Men Who Would Be King by Josephine Ross (nonfiction — the courtships of Queen Elizabeth I)
Dreams from My Father by Barack Obama (memoir)
Wild Swans by Jung Chang (memoir/history)
The Junior Officers Reading Club by Patrick Hennessey (memoir)
Hope Diamond by Richard Kurin (nonfiction — history of the Hope Diamond)
Last Man in Tower by Aravind Adiga (fiction)
Booknotes: Stories from American History, edited by Brian Lamb (nonfiction)
Late for Tea at the Deer Palace by Tam Chalabi (memoir)
So there you have it, 15 more books to add to my overflowing bookshelves. Being a book addict is awesome!