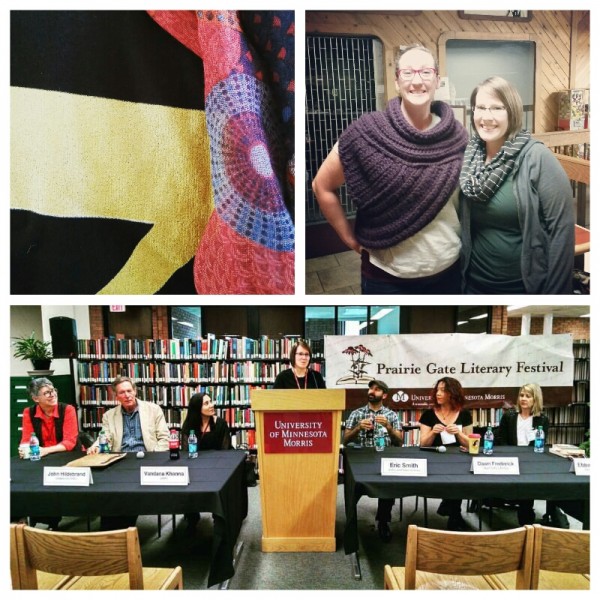 Briefly | I spent most of this weekend on campus for the Prairie Gate Literary Festival, a small event I've helped plan for the last couple of years. Our authors this year were Emma Bull (science fiction/fantasy), John Hildebrand (creative nonfiction), Vandana Khanna (poetry), Eric Smith (young adult) and Ebba Segerberg (translator). I got to serve as the moderator of a panel yesterday — a new and exciting experience for me!
Reading | I finally finished Sorcerer to the Crown by Zen Cho! I'm not sure what took me so long with that one, since it was totally great — smart, diverse, feminist fantasy that should have a sequel or two. I'm still digging fiction ahead of Nonfiction November, so I picked up Mermaids in Paradise by Lydia Millet from the library. After that, it's all nonfiction all the time.
Watching | It's all Elementary all the time around here — for those who mentioned it last week yes, Natalie Dormer was SO GREAT! I hope she comes back.
Making | I got another request for a "Katniss Cowl" (first one pictured with the recipient, my friend Carrie, above), so I'm going to start in on that as soon as the yarn arrives in the mail. I may have a few others in my queue, which is exciting!
Cooking | I got this Crock Pot Chicken and Wild Rice Soup from Iowa Girl Eats in the slow cooker this morning, so that'll be good later today. I'm hoping we'll eat out less this week.
Blogging | I could not get in the mood to blog this week, but spending the weekend with authors and other bookish folks in real life helped me feel inspired again. Between that and Nonfiction November, I'm hoping the blog will pick back up.
Promoting | I found a few great posts/articles this week: 23 Ways To Treat Yo' Self Without Buying Or Eating Anything from Yes and Yes, How Doctors Take Women's Pain Less Seriously from The Atlantic, and Genre Kryptonite: Political Campaign Novels from Book Riot.
Hating/Loving | I have so many great books I want to be reading right now. It's amazing and intimidating and means I should be spending less time in front of screens.
Anticipating | I finally got all of the pieces for my Halloween costume! Our office dresses up for Halloween and we decided the theme this year was going to be superheros. I went pretty simple, but I'm excited.
Happy Sunday, everyone! What are you reading today?