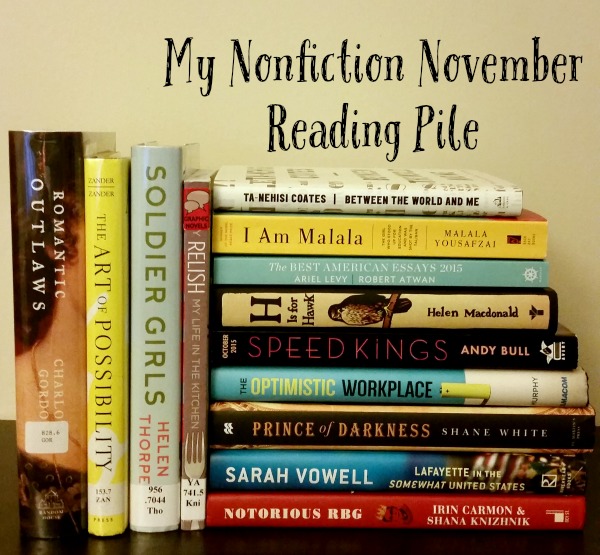 Nonfiction November is coming! While reading exclusively nonfiction isn't part of the celebration I'm co-hosting with Leslie (Regular Rumination), Katie (Doing Dewey) and Rebecca (I'm Lost In Books), it is something I'm excited to try next month. I've just been feeling out of my reading groove lately, so I'm hoping a month focusing on my true love, nonfiction, will get me back in the swing of things.
Thanks to the library, some review copies, and my inability to pass up a good book sale, I've got lots of great options to choose from. These books are just the ones that were top of mind when I started pulling the pile together last night. In no particular order:
I Am Malala by Malala Yousafzai and Christina Lamb — This is our Nonfiction November Readalong book for the year, so of course I need to read it! We'll be discussing it the fourth week of the month.
Notorious RGB by Irin Carmon and Shana Knizhink — This is a Tumblr turned book all about Supreme Court Justice Ruth Bader Ginsberg. I'm in.
Relish by Lucy Knisley — Lucy Knisley is really delightful, and I think this will be a nice change of pace.
Speed Kings by Andy Bull — I've been holding on to this book since this summer. I love good historical sports nonfiction.
Best American Essays 2015 edited by Ariel Levy — I miss reading essays. I didn't need a new to get another collection, but I'm excited about the guest editor.
The Prince of Darkness by Shane White — I'm really interested in the story of Jeremiah Hamilton, an African American Wall Street tycoon in the late 1800s.
Soldier Girls by Helen Thompson — This was an impulse grab at the library last month, but it looks really great.
The Optimistic Workplace by Shawn Murphy and Dorie Clark — I'm the chair of our workplace culture committee, so I'm thinking this book would be helpful in that respect.
Between the World and Me by Ta-Nahesi Coates — This might be the biggest book of 2015. I definitely need to read it this month.
H is for Hawk by Helen Macdonald — This is another one that's been on my TBR since much earlier this year. It's one of the big books of 2015, so definitely want to get to it.
Lafayette in the Somewhat United States by Sarah Vowell — I just love Sarah Vowell, and this is her newest book (out Oct. 20). Should be a lot of fun!
Romantic Outlaws by Charlotte Gordon — A dual biography of Mary Wollstonecraft and her daughter Mary Shelley. This chunkster got on my TBR list thanks to a review at A Gun in Act One. Hopefully it'll get to the library soon so I can dive into it.
The Art of Possibility by

Rosamund Stone Zander and

Benjamin Zander

 — I saw this book on the Instagram account of a DIY blogger I follow and got curious. Thanks library!
Obviously there's no chance of me finishing 13 books but it's nice to have a bunch of options pulled out and ready to go. I'm jumping in soon! What are you excited to read in November?