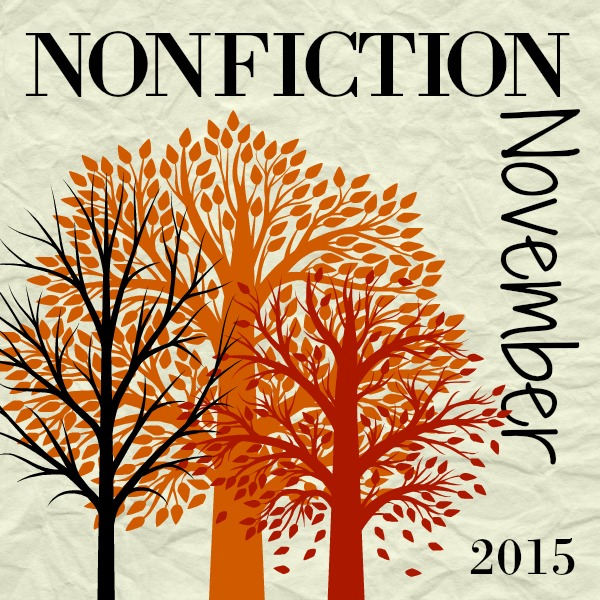 Two years ago, my blogging friend Leslie (Regular Rumination) and I decided we wanted to focus our reading in November on nonfiction. As we talked about it, we decided to invite other bloggers to join us in celebrating nonfiction all month. Hence, Nonfiction November.
Last year, Leslie and I were lucky enough to be joined by two additional cohosts, Katie (Doing Dewey) and Rebecca (I'm Lost In Books). I'm excited to say that we're all back to co-host Nonfiction November yet again this year. Yay!
The structure this year will be largely the same. On the Monday of each week in November, one of us will put up a post with the weekly discussion topic. The post will have a place to share links with responses to the topic OR reviews of nonfiction books that are posted during the week. On the Friday of each week, the weekly host will do a roundup of submissions to peruse. Please also share your posts and recommendations throughout the week on Twitter with the hashtag #NonficNov.
This year, we've decided to incorporate a readalong more fully into the weekly post topics. During the fourth week of November we plan to focus on our readalong of I Am Malala by Malala Yousafzai and Christina Lamb — more details on that below. 
Without further ado, here are the topics we've selected:
Week 1: November 2 to 6 (Hosted by Kim)

Your Year in Nonfiction: Take a look back at your year of nonfiction and reflect on the following questions – What was your favorite nonfiction read of the year? What nonfiction book have you recommended the most? What is one topic or type of nonfiction you haven't read enough of yet? What are you hoping to get out of participating in Nonfiction November?

Week 2: November 9 to 13 (Hosted by Leslie)

Book Pairing: Match a fiction book with a nonfiction book that you would recommend.

Week 3: November 16 to 20 (Hosted by Becca)

Nontraditional Nonfiction: This week we will be focusing on the nontraditional side of reading nonfiction. Nonfiction comes in many forms. There are the traditional hardcover or paperback print books, of course, but then you also have e-books, audiobooks, illustrated and graphic nonfiction, oversized folios, miniatures, internet publishing, and enhanced books complete with artifacts. So many choices! Do you find yourself drawn to or away from nontraditional nonfiction? Do you enjoy some nontraditional formats, but not others? Perhaps you have recommendations for readers who want to dive into nontraditional formats.  We want to hear all about it this week!  

Week 4: November 23 to 27 (Hosted by Katie)

Readalong Discussion: This week we'll be wrapping up Nonfiction November with a discussion of our read-along book, I Am Malala by Malala Yousafzai and Christina Lamb. Discussion questions will be posted at the beginning of the week on November 23. In your post, you can answer these questions and/or write about your own response to the book. As you read throughout the month, you can share your thoughts on Twitter using the hashtag #NonficNov.
It should be pretty simple. A post to accept links will go up on Monday. Share your discussion topic or review of a nonfiction book any time during the week. Check out all of the great nonfiction posts throughout the week or in a roundup on Friday. (If you're a blogger, feel free to grab the image above for use in all of your Nonfiction November posts).
Nonfiction Book Swap
Again this year, Bex (An Armchair By the Sea) is hosting a Nonfiction Book Swap to go along with Nonfiction November. The book swap is open internationally and participants should make a nonfiction only wish list. Sign ups are open until November 8, but head over to her blog for all the details. 
Whew! I feel like that got a little long. Also, apologies for getting this out so late this year — with all my travel we didn't get organized quite as promptly. But anyway, enough jabbering. I hope you'll join us for an awesome month of exploring and celebrating nonfiction! See you back here on November 2 for the first link up.