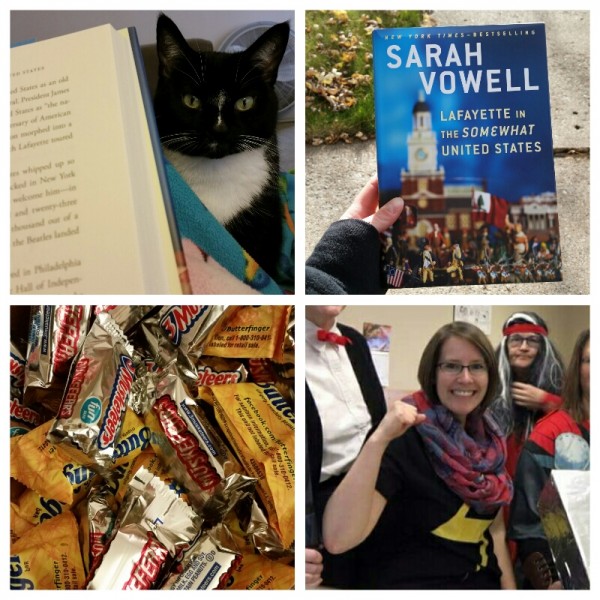 Briefly | After a weekend traveling and a weekend that was busy, I'm so happy for a weekend entirely at home. The boyfriend and I got caught up on errands yesterday, so I think today will be all about cooking, chores and football. I slept in today, but thanks to Daylight Savings Time I still have a long morning to get things done.
Reading | This week I finished China Rich Girlfriend by Kevin Kwan, the sequel to his debut novel, Crazy Rich Asians. I didn't like it nearly as much, but I'm still curious to see how what's supposed to be a trilogy eventually plays out. Now, it's time for nonfiction! Yesterday I started Lafayette in the Somewhat United States by Sarah Vowell, and I'm thinking about picking up Speed Kings by Andy Bull.
Watching | I don't really like scary movies, but wanted to get in the Halloween spirit this weekend, so the boyfriend and I watched a couple of Halloween-adjacent movies: The Poisoner's Handbook (a PBS documentary about the birth of forensic toxicology, based on a book!), and Clue. I forgot how great that movie is.
Listening | I finally started listening to the soundtrack for Hamilton (a Broadway musical based on the life of Alexander Hamilton). And yes, it's amazing. And yes, that's why I started reading Lafayette in the Somewhat United States.
Blogging | This week I shared stories from the final leg of our adventure in Europe and outlined my possible reading pile for Nonfiction November.
Promoting | Three interesting articles this week: The Rules of Donut Club from The MMQB, The Strange Case of Anna Stubblefield from the New York Times Magazine (, and The Day that Changed WDBJ from CNN Money.
Hating | I totally fell off the planet with my One Little Word for this year. I just never seemed to find a way to bring it into my day-to-day experience. But, I still love the idea and want to try again next year.
Loving | As the weather cools down, Hannah becomes more inclined to cuddle with me. She's not a very loving cat (with me), so this makes me happy.
Loving II | We actually got some Trick or Treaters last night! It was a small number, maybe 20 total, but still super fun.
Anticipating | Nonfiction November! The first weekly topic and link up will be here tomorrow, then we're off to my other co-hosts for the rest of the month. I'm pretty excited we got this up and running again this year.
Happy Sunday, everyone! What are you reading today?