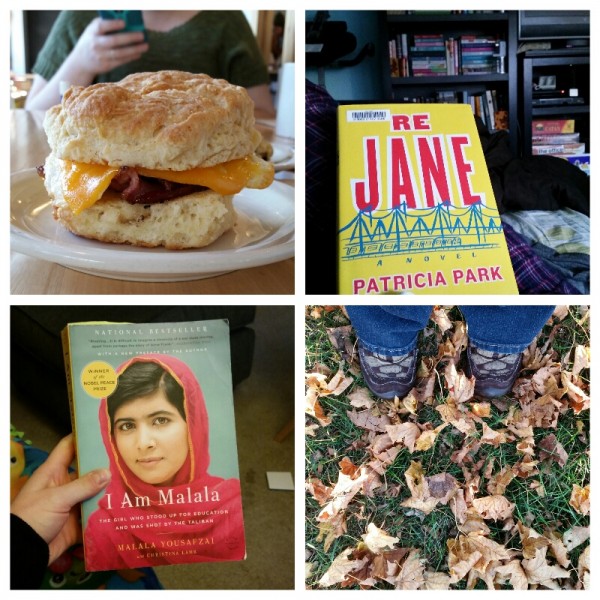 Briefly | Last weekend I was in the Twin Cities doing some volunteering and didn't have it in me to put a post together. This week has been pretty normal, but it felt like I was working a ton (a couple evening meetings coupled with a couple earlier-than-normal mornings will do that).
Eating and Drinking | Cranberry orange black tea and a giant chocolate chip muffin, but I'm thinking about the egg/bacon/biscuit sandwich I had last weekend at Butter Bakery Cafe. SO GOOD.
Reading | My reading has continued at a snails pace. Since I last checked in, I've finished Dear Mr. You by Mary Louise Parker. I'm still (slowly) reading Re Jane by Patricia Park, and I hope to finish I Am Malala by Malala Yousafzai and Between the World and Me by Ta-Nehisi Coates today or tomorrow.
Watching | I suspect the reason reading is still slow is because there's been a lot of watching going on around here. I'm done with five episodes of the BBC Wolf Hall adaptation, and I watched a little bit of Jessica Jones on Netflix. We also did a Mockingjay double feature last night, catching Part 1 at home and heading to the theater for Part 2. Mini Reviews: Wolf Hall is more accurate and less fun than The Tudors. Jessica Jones seems fun, but I haven't hit the dark parts yet. Mockingjay Part 2 is a well-done adaptation, but man, that book is such a downer.
Cooking | The first winter-y weekend of the year calls for a pot roast in the crock pot. I'm thinking about trying Budget Bytes' Sweet Potato Corn Bread as a side.
Blogging | For week two of Nonfiction November, I wrote about books on science and community. For week three, I wrote about some online essays that I think are doing cool things with the format. I also wrote about Sarah Vowell's Lafayette in the Somewhat United States.
Promoting | Two fun posts this week: How to Hygge (Or: 29 Ways to Actually Enjoy Winter) by Sarah Von Bargen at Yes and Yes and How Hamilton Uses History by Joanne B. Freeman at Slate.
Hating | Winter is here? We didn't get the snow that much of Wisconsin and Illinois did, but our warm fall has finally come back to reality. Yesterday we pulled out the flannel sheets and I found my electric blanket. I'm trying to embrace the season changing.
Loving | Elect Hamilton, a genius Tumblr from our own Shannon (River City Reading) and April (The Steadfast Reader). It is perfect.
Loving II | Phil Klay, author of the short story collection Redeployment, wrote an eloquent response to the total craziness going on related to Syrian refugees. The most important: "But it's only during frightening times when you get to find out if your country really deserves to call itself the 'home of the brave.'"
Avoiding | I am woefully behind on blog comments… I don't even want to look.
Anticipating | The Vikings play the Packers in a big game later this afternoon. Even if the Vikings lose — which I always expect that they will — it should be a fun match up.
Happy Sunday everyone! What are you reading today?